Q&A with Laetitia Van Gindertael, Womenswear Designer for Bellerose
We always look forward to a Bellerose buying appointment, to see what each new collection will bring; the mish mash of style references, the beautiful fabrics and attention to detail. We're long-time fans so were super excited to have the opportunity to chat with Laetitia Van Gindertael, the lady responsible for so many of the clothes we've loved over the years.
We're always excited to see how Bellerose's unique mix-and-match aesthetic plays out each season. Talk us through what inspired the Summer '18 collection?
The World Exhibition of 1958 in Brussels was our main inspiration for this particular collection. The impact of that event was enormous as it really left its mark on an entire generation, especially here in Belgium. Several iconic landmarks were constructed; the Atomium being an obvious one but there's also The Whirling Ear and the American Pavilion for example.
The star of the official logo, as designed by Lucien De Roeck, can be found on a series of items as a reference but of course the styles and shapes of the 50's were a great source of inspiration too. Vichy patterns, leopard prints, polka dots, pied-de-poule… I could keep going for hours.
Have any of the pieces from this collection made their way into your wardrobe?
Yes, of course! A lot actually, now that I think of it. I always design based on what I love wearing myself so I wear Bellerose every day. I mix pieces of our own collections with vintage items that I've found myself (either through my mother or grandmother or at flea markets, vintage stores etc.) Right now I love wearing our Poivre dress with its Atomium-print (drawn by our own graphic artist Lara Lancereau-Jaulin), combined with leggings, our mohair socks, a pair of New Balance kicks and a bulky mohair sweater called Tygh.
I love mixing different styles, like wearing our flat front Lotan pants with our 50's styled Lonu jacket, ballet flats and a leopard print blouse that used to belong to my grandmother. There's a few fetish items in this collection that I wear very often and that will stay in my wardrobe for a long time. Our Lotan pants in white, our pinstripe Symbo shirt, a navy alpaca cardigan called Nijven and a calfskin jacket with leopard print (from our Saintonge capsule) to name but a few.
Who or what inspires you?
So many things! Kenneth Noland's paintings for their stripes and color choices, a bouquet of flowers, a random person on the street for his or her look, my grandparents on my father's side who were artists and very modern in the way they dressed and how they decorated their house etc. I find inspiration almost everywhere and at any given time.
What has been your proudest Bellerose moment to date?
I've been with Bellerose for close to twenty years now, so it's very hard to pick up a specific moment or occasion. I'm very proud of the evolution the brand has gone through, as I am very proud of our stores. Each and everyone one of them is unique and has a vibe and a character all of its own.
What has been the most important lesson learned?
Staying true to who you are is what works best. Not letting anyone else decide for you. Staying humble is also very important, it's how I was raised, it defines me as much as it defines Bellerose as a brand.
What would you like to do in the future?
I would love to write and assemble a cookbook containing all the recipes that my colleagues and myself are fond of. Another thing I'd love to learn is wood carving.
And finally, what is team Bellerose's guilty pleasure?
There are a few I must admit. I love ordering pizzas from the Italian around the corner and eating them together with the whole team in our kitchen here at the office. Another one is smoking a cigarette before I start to designing.
I also love cranking up the volume when one of my favorite songs is playing on the radio (but I do check if the others are OK with that first). Eating Stilton cheese (that my father always brings back from England for me) for lunch and having a meeting right after.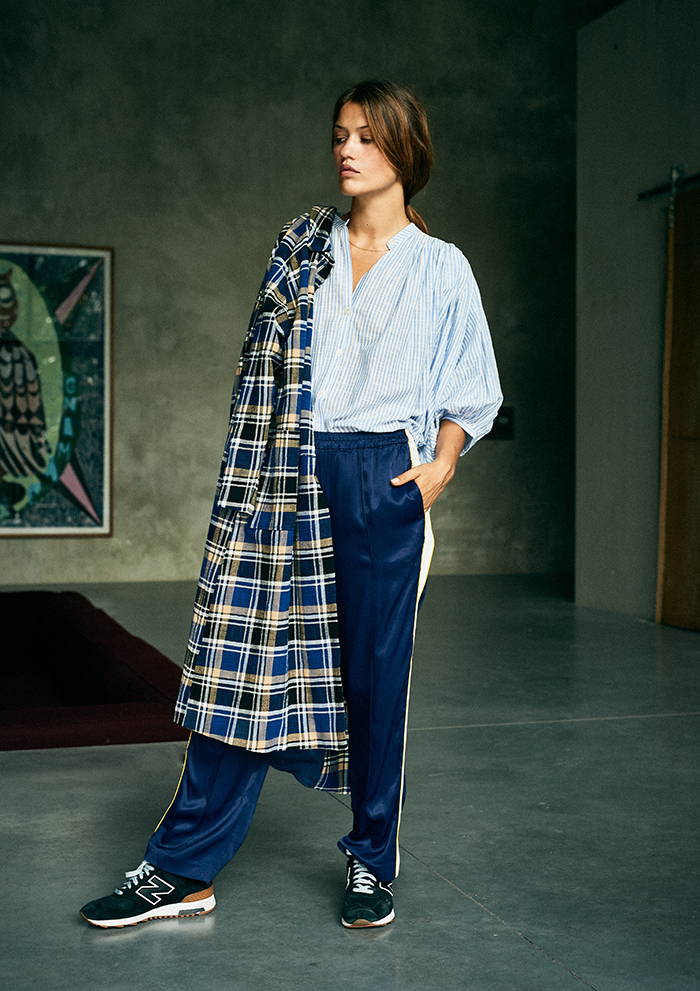 Describe a typical working day at Bellerose HQ?
A day here for me usually starts with seeing Sandrina Fasoli, designer of all woven items in our women's collection. We take our time to review our latest sketches and ideas, we discuss the type of fabrics we want to use and things like that. After that I sit down with Jantine Van Peski, who designs all circular knits & accessories to decide upon color ranges, fabrics and fits.
Usually, a meeting with Philippe Van Mollekot (knitwear developer) is up next to discuss my newest designs, the type of yarns I've picked etc. Afterwards I work on the stripes and colors for our knit sweaters, which I absolutely love.
In the afternoon, I refine and confirm the selections I've made for the footwear that goes to our own retail stores, where we sell a whole bunch of other brands. To finish the day I usually end up trying on the first prototypes that we receive for future collections together with Sandrina and Anais Laurent (our woven products developer).
Who or what couldn't you work without?
Without the people I was just talking about it would be impossible to even begin to design our collections. They all mean the world to me and all have their specific qualities that help make Bellerose what it is. Working in a team is something I find to be very rewarding.
What do you like most about what you do?
Deciding on new color ranges, creating new stripes and searching for perfect prints. I also love antiquing vintage pieces and fabrics but that'll come as no surprise.
How would you describe a Bellerose woman?
In my mind she's in between 30 – 50, independent, active, curious and with a style of all her own. I always picture someone that enjoys mixing and matching, because that's what I love doing myself. Someone that buys whatever triggers her and whose tastes aren't dictated by trends. A woman that stays true to who she is and what she loves.