Diary of a Provincial Shopkeeper
with thanks to EM Delafield for the absolutely brilliant source material
w/c June 14th : Buying and Selling
Am frightening the horses. Made customer remove item of clothing immediately as she looked like Grayson Perry. Made same customer remove sweater as looked unspeakably boring. Also made same customer adjust bra straps to give perkier appearance to bosom. Noticed other customers in fitting room retiring to safety behind the curtains, fearful of adverse comments relating to body image and resemblance to Turner Prize winning artists if they ventured into communal space. Felt thus compelled to introduce customer as my much loved and inordinately stylish mother with whom I speak frankly and plainly. Much sympathy and admiration expressed to mother for her gracious tolerance in face of daughter. A degree of tutting and head shaking expressed to me.
V pleased to be back in London for buying appointments. Am now ranking agents and design studios according to catering provision as, since lock down, have reverted to eating habits of young child on four hourly feeds. Impromptu sandwich much beyond lunchtime followed by evening drinks in sunlit garden of private members club currently in the lead. Am just saying.
Much excitement at latest Zoom call (scheduled time EST 10am). In glamorous setting of stuffy stockroom in SO23, surrounded by staff lunch boxes, broken hangers and old coats, buyers ineffectually attempt chilly sang froid for meeting with stylish, but potentially frosty, New Yorkers in slightly more glamorous setting of enormous loft showroom in Soho, NY. Assorted models of giraffe dimensions wandering in and out of shot, minions quietly minioning and all manner of beautiful dresses wafting. Sang froid very quickly lost to excited exclamations and audible squeals which causes online staff working in attic to rush in offering medical assistance.
Think wise idea for customers to bring wallet to shop: transactions generally relying on exchange of money for goods. Customers with funds generally in stronger position re. shopkeepers. Weighty basket of potential homewares purchases from new Hambledon visitor is steadily whittled away as said visitor has forgotten credit card and finds her friend neither enthusiastic over quality of potential purchases nor willing to lend funds to satisfy her shopping habit. Leaves shop rather sheepishly with a sea salt soap and a water pistol paid for with dusty coins at the bottom of her bag.
Will attempt to leave Brexit topic for my appearance on Question Time. But have much to say about deliveries from Europe and very little is positive. Find working on project with major Danish homeware brand has tested will to live. Danish homeware brand broadly good. Danish homeware brand's shipping agent broadly very poor. Excuses for lack of delivery ranging from lorry too big; van too small; Winchester roads too narrow; working day too short; shop closed (Really? At 11am on a Monday?). Truth finally revealed. Shipping agent has lost palette at depot and is fearful of consequences with Danes, who, it is true, can be forthright when challenged.
In other news, much commotion on ground floor as Rob discovers spider (apparently of unnatural size and threat) hidden in tee shirt. Thought screaming was Cathy Berberian auditioning for soprano part in outlandish opera but seems spiders will bring out Rob's full vocal range.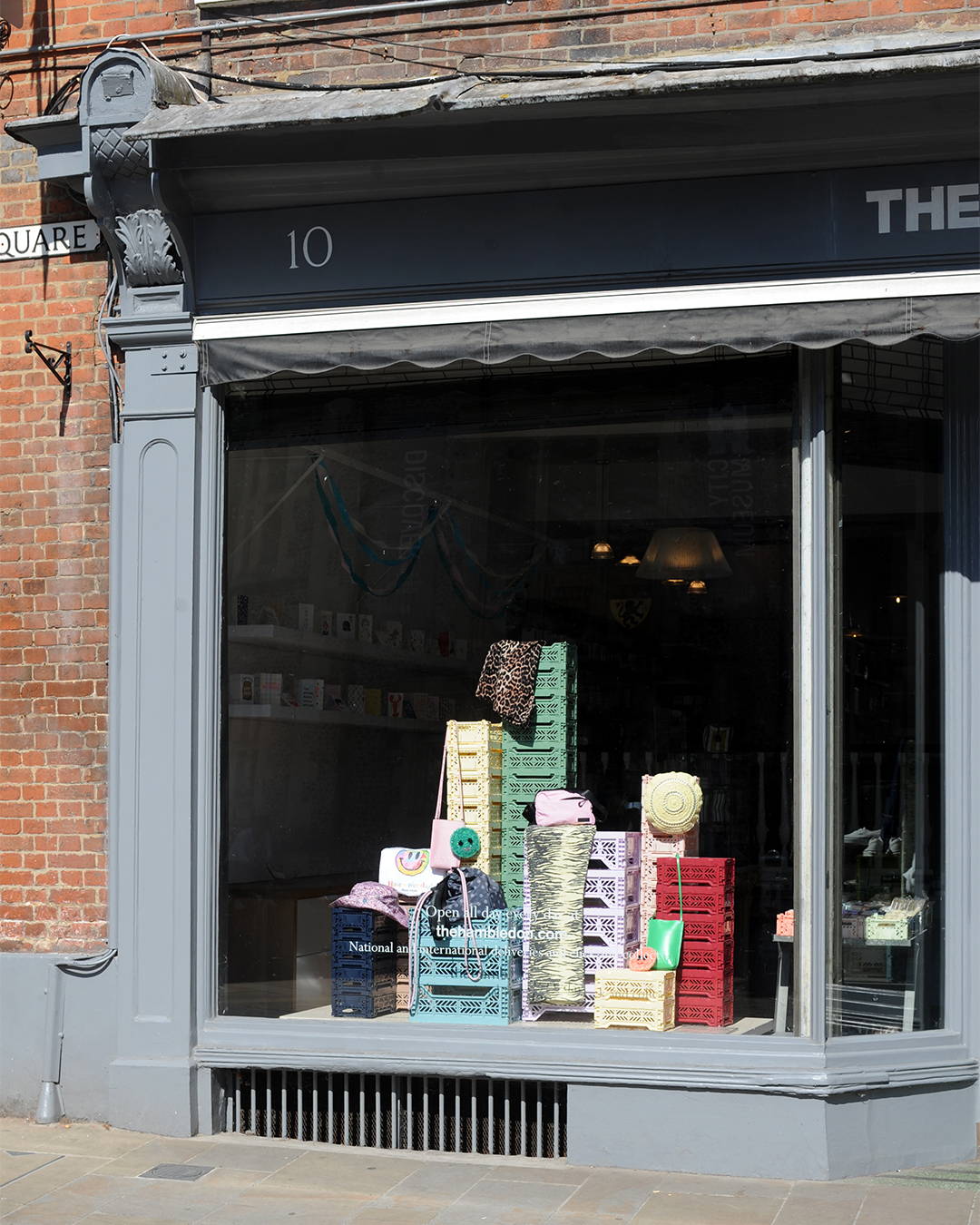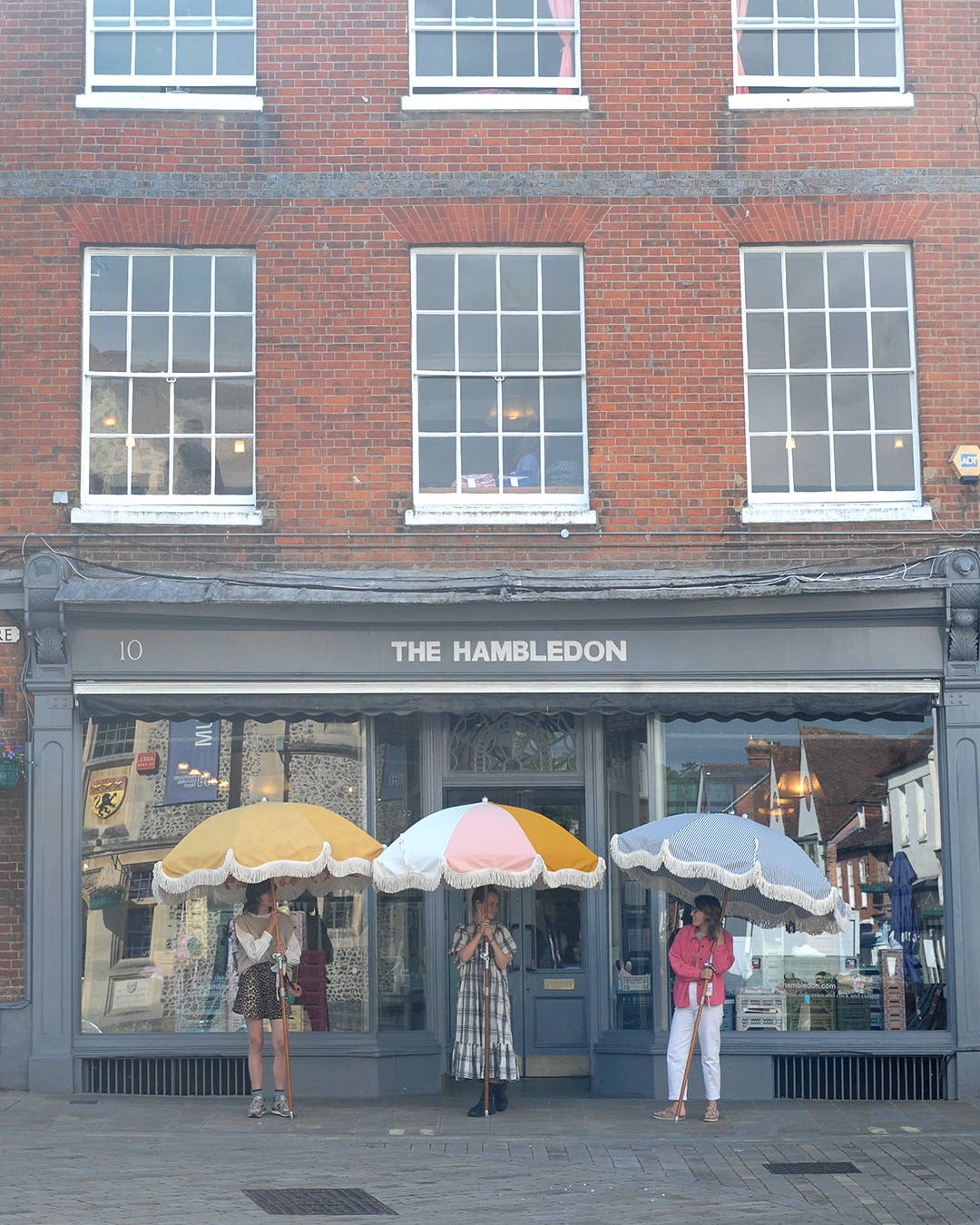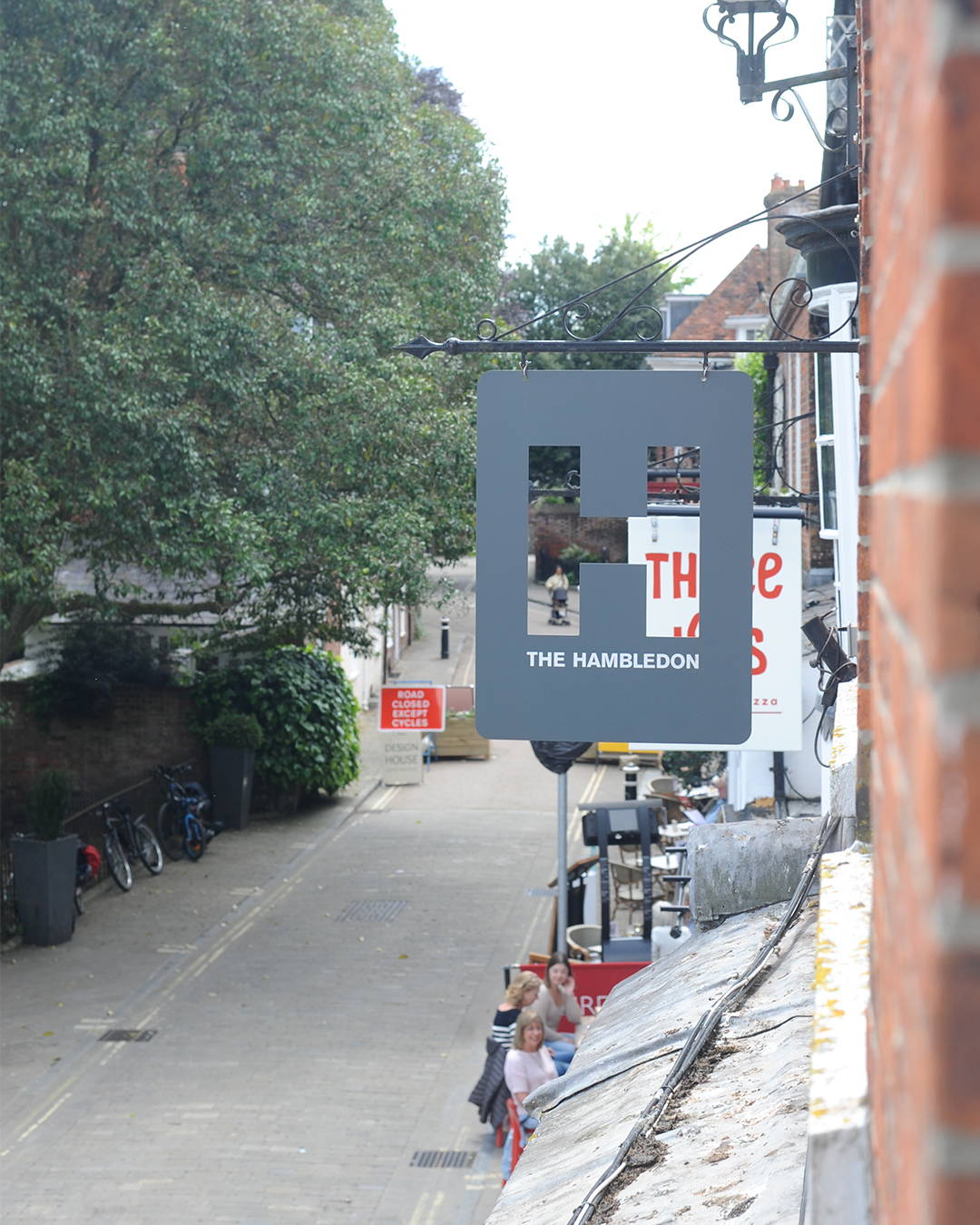 w/c April 26th: Technology and Bureaucracy Get the Better of Us
Attempting to live in grown up, digital age. New till system installed and is already making recommendations for products we should sell. Think this disrespectful and rude. Suggestions based on customer search history rather than ineffable skill of retail buyer, garnered over years of trial, experience and impeccable taste. Suicide apparently on this list (auto correct on Suicoke sandals possible culprit). Think will not be inclined, nor indeed able, to offer this service.
Finn spending aeons troubleshooting new system. Names of Shopify support staff bear close resemblance to rival band of Teenage Mutant Ninja Turtles. Finn in reliable super hero hands when aided by Mozart, Aloysius and Genesis. Think she feels underwhelmed when supported by Hannah, Lauren and Henry. Have yet to study whether outlandish name directly correlates to level of service offered. Have actually better things to do.
Brexit currently removing any leisure hours. C79 form from HMRC covered in multiple number codes for ports of entry, item and shipper (all printed on v jazzy anti forgery paper which makes it unspeakably hard to read and apt to bring on headache) sadly bears no relation to multiple number codes on supplier invoices. Cross referencing therefore quite tricky and VAT therefore quite tricky to reclaim. Am buying a monocle, anti migraine pills and giving bookkeeper a payrise.
Brexit also causing difficulties with deliveries. Many shipments now languishing in UPS facility in Wolverhampton, pending paperwork or funds or depressing combination of both. All further complicated by delivery drivers' failure to navigate narrow Winchester streets in 44 tonne artic. And reluctance to trundle contents of 44 tonne artic on sack truck around the narrow, albeit scenic, streets of said historic city.
Meeting with Rosie, our digital strategist. Monthly visit to show us graphs with lines going in assorted directions and numbers variously in red or green. Think we aspire to colour green and near vertical lines in the ascendant. Leave meeting with homework and resolve to write 500 words of meaningful content with copious relevant links which Google (it apparently makes point of reading my oeuvre) will appreciate. Shortly afterwards resolve to write 500 words with relevant link or two. Shortly afterwards have lie down and resolve to ask Amy to take some more photographs as believe visual content infinitely more engaging.
In other news, commercial bribes from stationery supplier, once in form of v small Lion Bar, now escalated to enormous quantity of Kit Kats (one benefit of large outlay on cardboard boxes for online orders). Detective work ongoing as to where said Kit Kats now are as no longer in the kitchen cupboard.
Odina, ever solicitous, but perhaps somewhat short sighted and unfamiliar with new mannequins, makes urgent approach to pair of etiolated models (standing singularly tall, straight and unmoving on First Floor) with offers of help on their shopping dilemmas. Both unsurprisingly unforthcoming in response.
Rob and Rich launch first film in our series 'What's in the Bag?'. Rob, acting as Graham Norton/Michael Parkinson, hosts interview focussing on trousers and basketballs. Offer Rob contract to host further episodes, focussing on dresses, vases and moisturiser.
"One minute I'm furloughed, the next minute I've got my own series".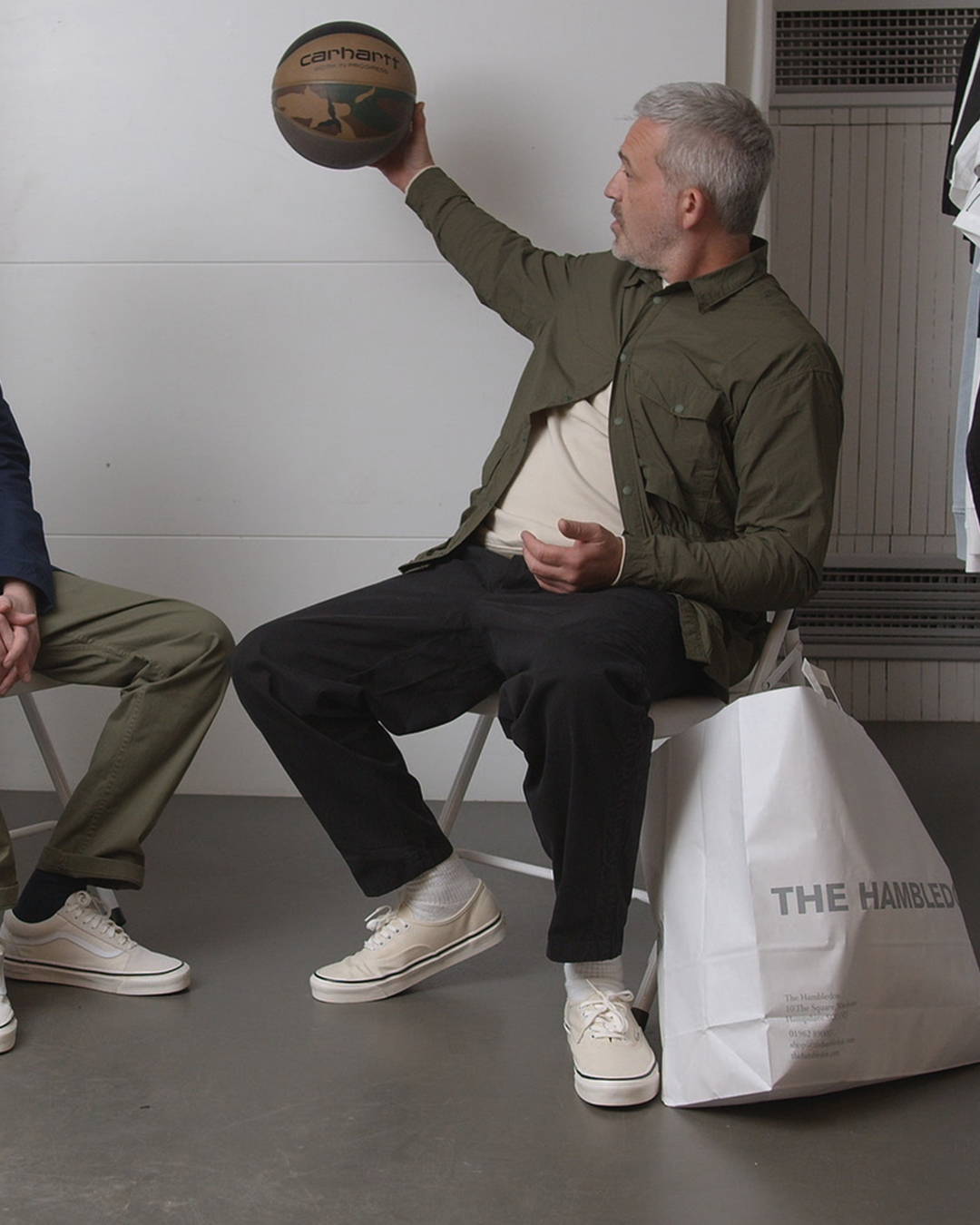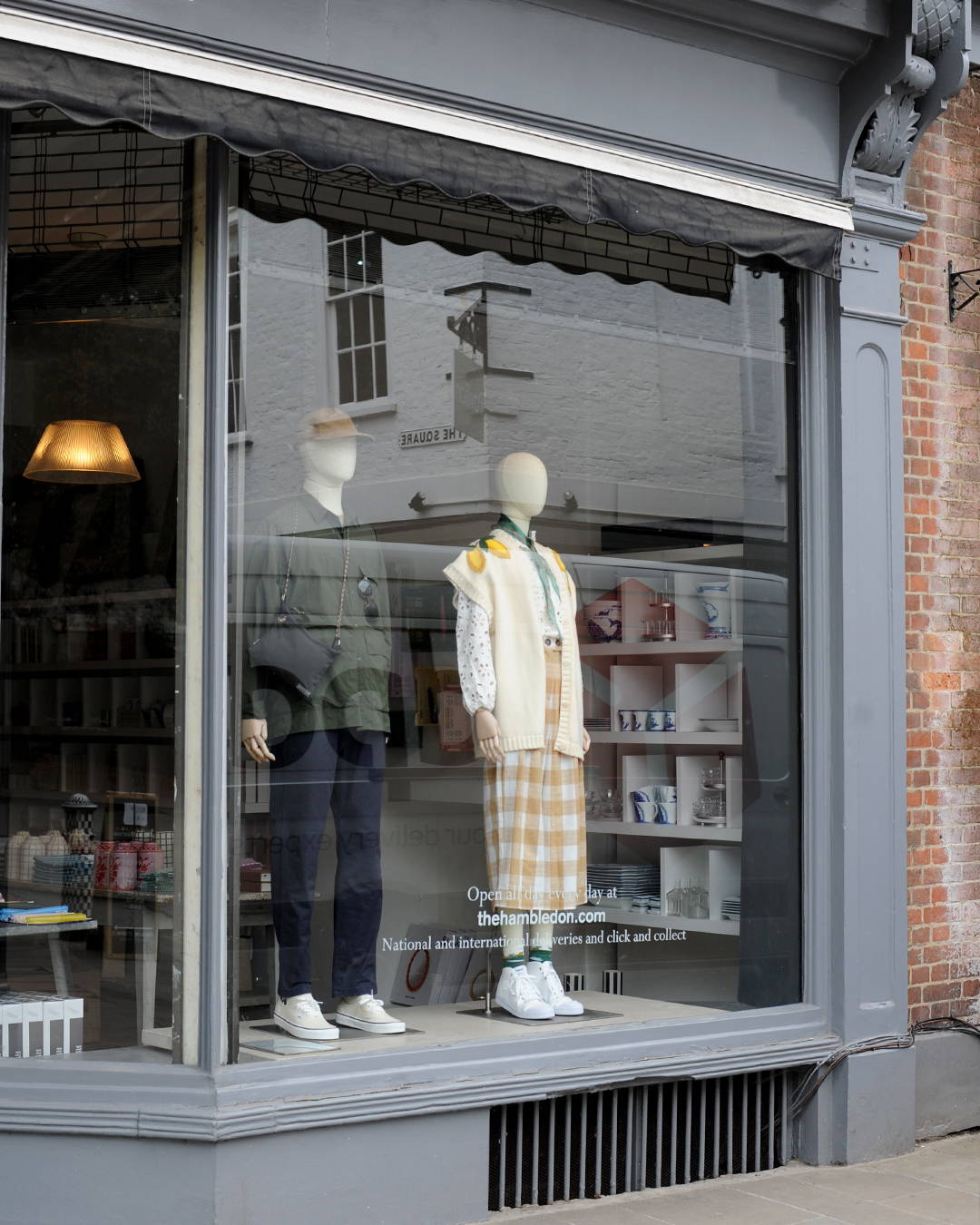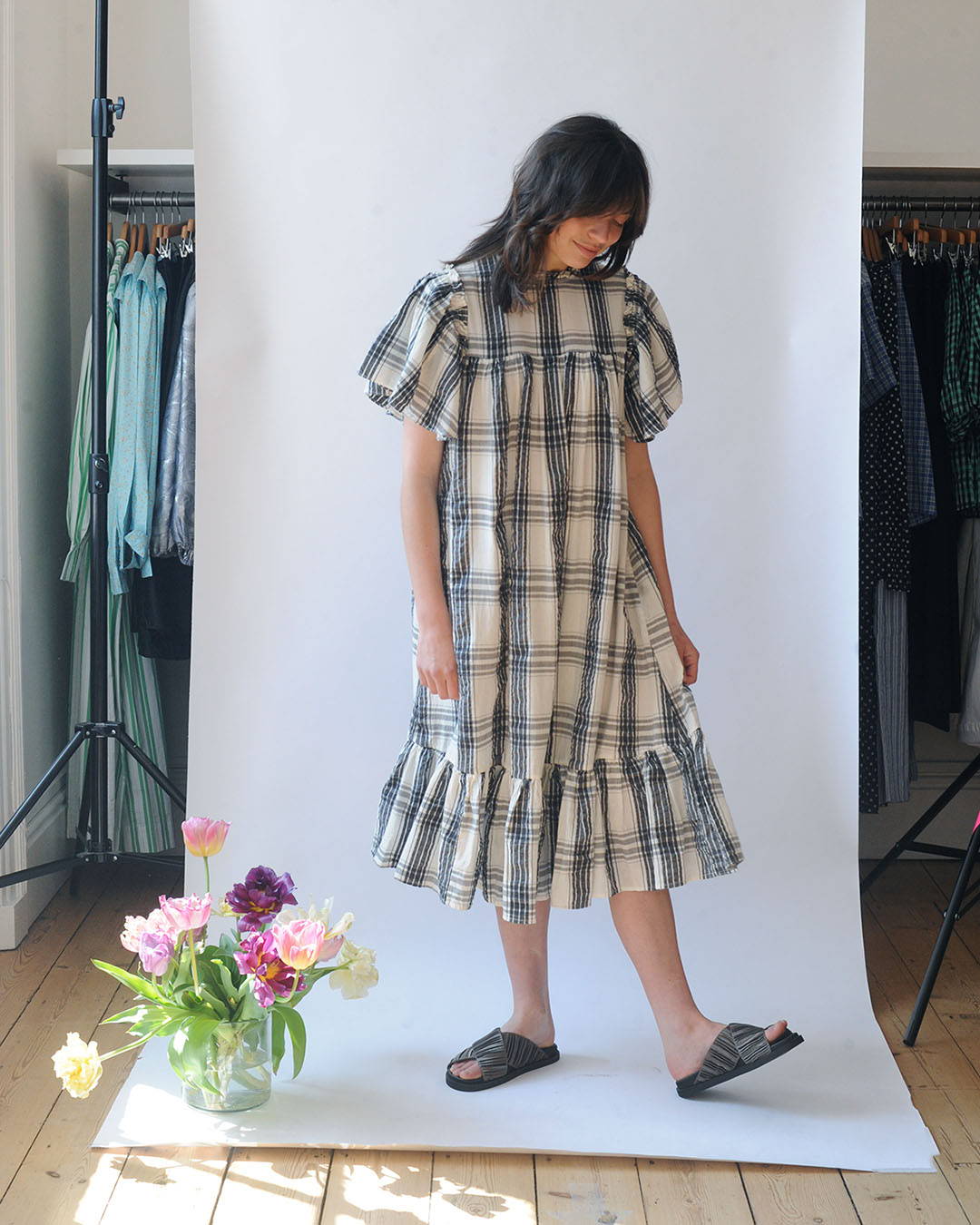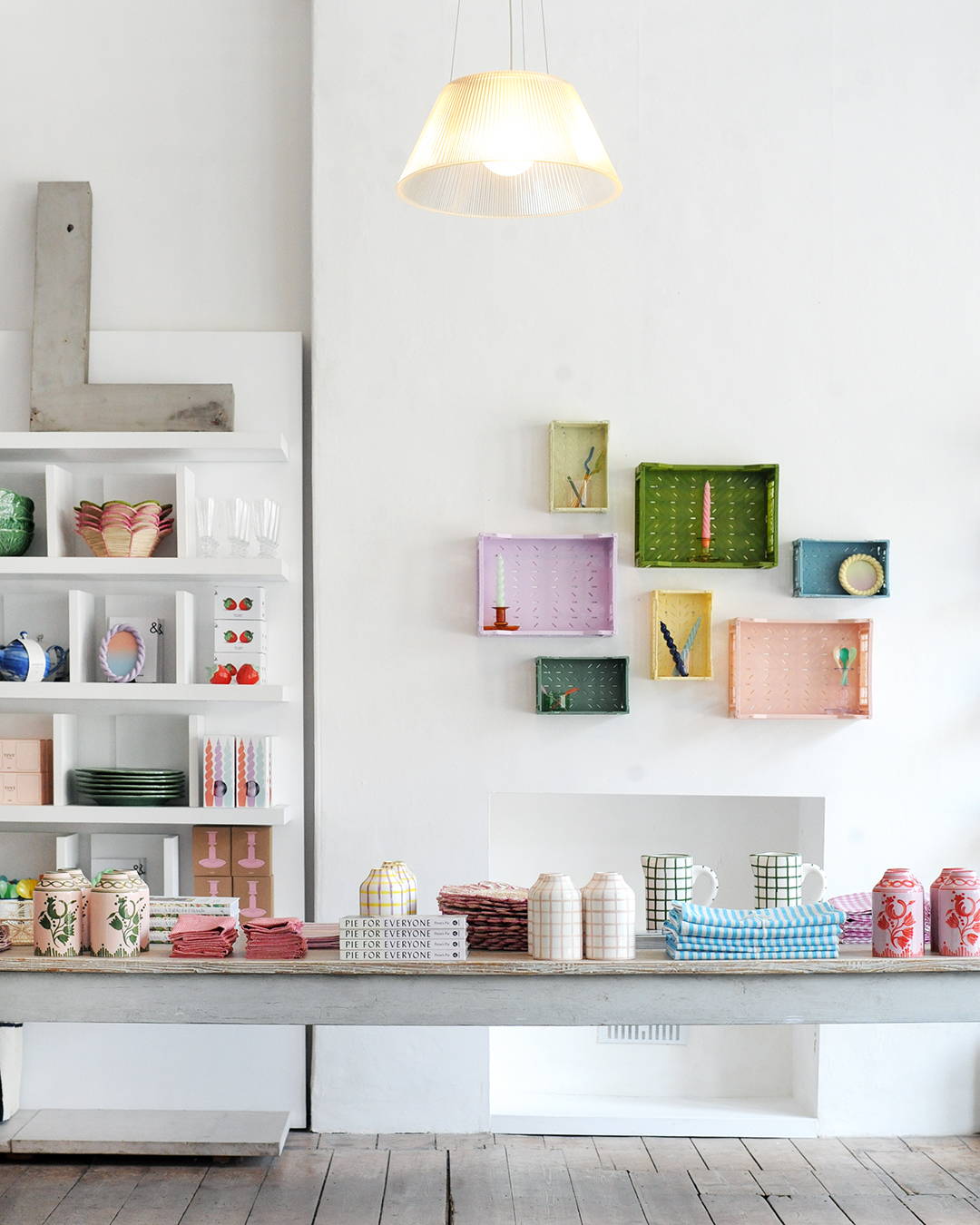 w/c April 5th: Getting Ready for 12th
Before:
Shop is absolute shambles. Phil the Cardboard has injured ribs in fall from conservatory. Recycling collection delayed and cardboard accumulation makes navigation around shop v difficult. Mountains of Hartford delivered. Feel the backlog of shipments in the Suez canal is as nothing to Spring 21 deliveries here. Unrivalled dust and fluff everywhere. Unrivalled random objects, useful to life but not daily necessity, needing permanent and safe storage. Currently taking up residence on shop floor, causing serious trip hazard. Quantity of coffee mugs and tea cups left around is a startling, and irritating, multiple of actual staff available in building to drink hot beverage. Feel it time to take matters in hand. Must get back on track in time for Glorious Twelfth.
The Big Tidy Begins
Rowan has been here installing new till system. He has keys, lights, ID and assorted accoutrements on heavy duty lanyard plus very bright head torch. We are in extremely safe hands. He has also cut the wire to the heater as deemed it unsafe. And lectured Harriett on ladder protocol. As I say, we're in very safe hands.
Rob has spent much of the week with new best friend Henry. Henry follows him around everywhere. V happy to encourage this new love interest while floors are dusty and leaves need sucking out of basement but think it time Rob got real dog companion as relationship with electrical device beginning to show signs of obsession
Harriett is busy with art project for window. Rendering gingham onto vast sheets of lining paper. Vinyl matt, primary school poster paint and box of old oil pastels make task challenging. Full range of art paints essential to us at this moment but not sure current lockdown restrictions are in agreement.
Lucy and Joe working on Sale area in Project Space. Joe's capacity to take home orphan items of questionable use and value rivalled only by Finn's.
Remove peg board directories. Hope customers will be able to find way around without this aid.
Have taken storage unit for excess clutter. Like to call it  a 'lock up' and pretend am character in The Sweeney. Is filled with limbless mannequins, running rails and past season fashion. Think not the material of crime drama but feel quite spooked when unloading trolley and start working on script merging retail and horror. New genre?
Richard usually has proper job running online fulfilment. Has been seconded this week as painter decorator for reopening. Is worryingly happy in his paper onesie from Brewers. His proficiency with white emulsion coupled with Rob's fanatical cleaning of glass lampshades renders shop almost too bright for human eyes.
Annie has new skill as physicist. Appears to have understood Fourth Dimension and recreated it on First Floor. Space found from said dimension to accommodate impressive quantities of Spring womenswear collections, whilst maintaining semblance of beauty and order. Rob has achieved similar results in Basement with less physics and more judicious folding.
After:
Begins to feel somewhat like The Hambledon, only cleaner and tidier and fuller. Am immensely grateful to everyone for v v hard work. Just missing one vital element. Trust shop customers will make reappearance on Monday as have missed inordinately.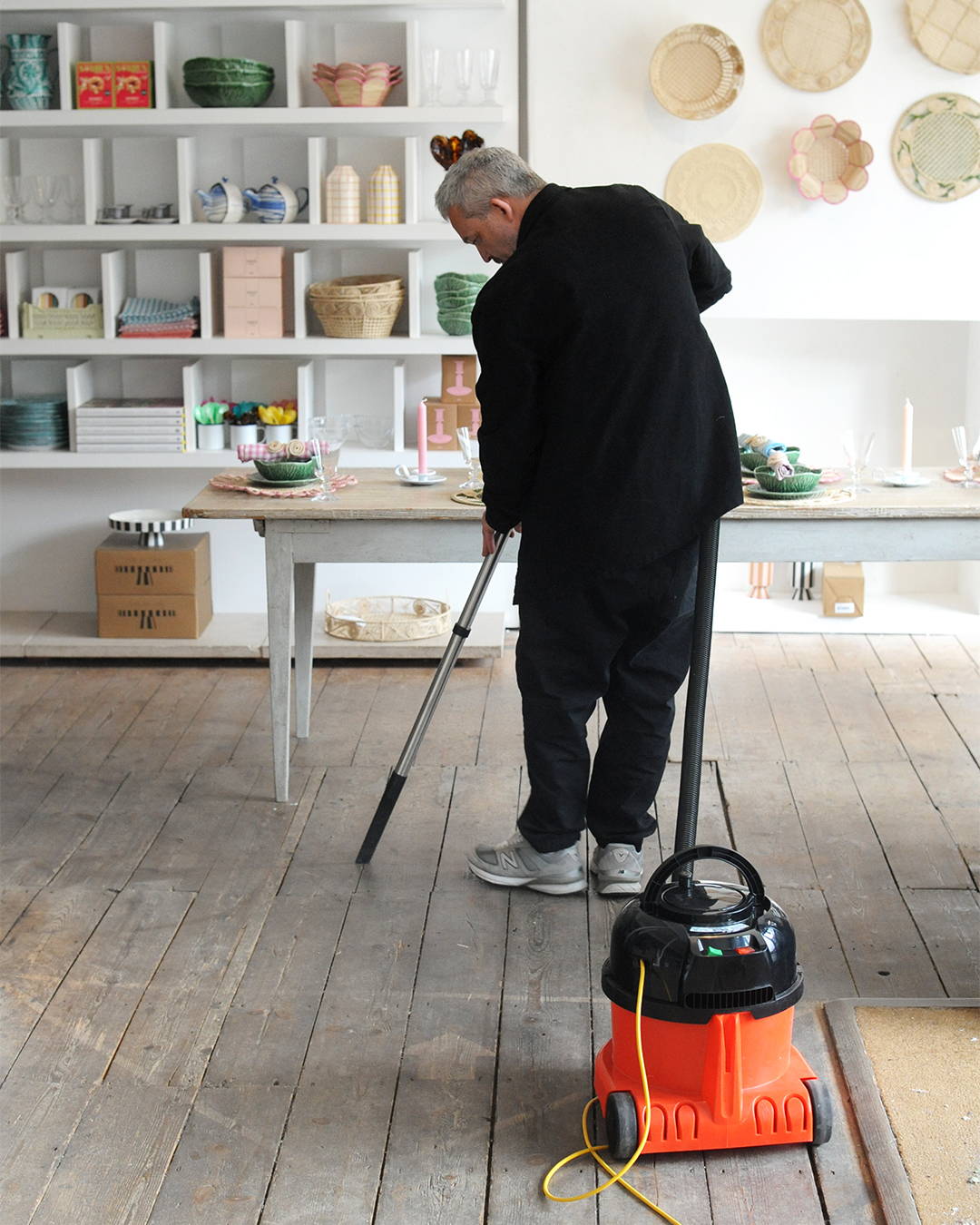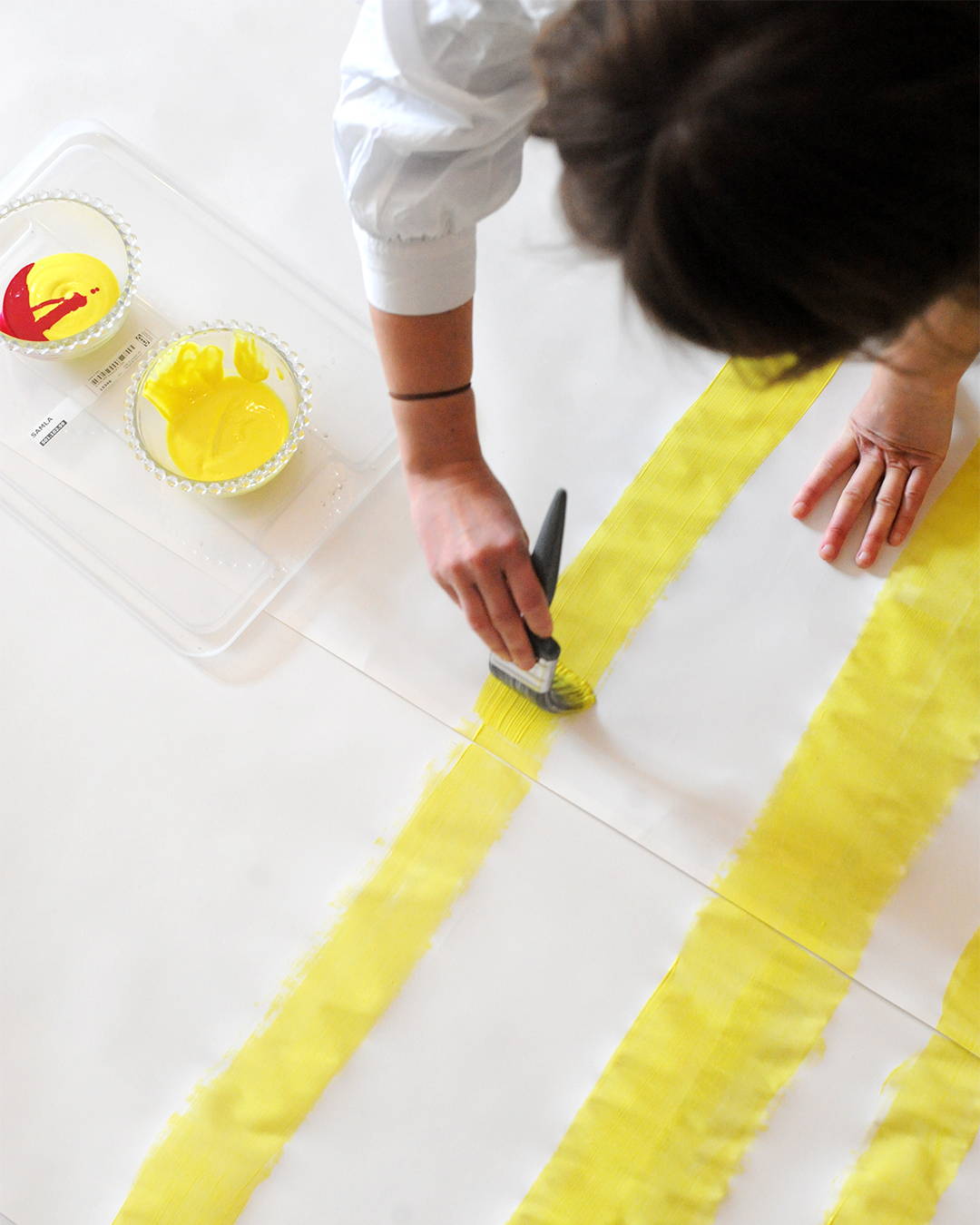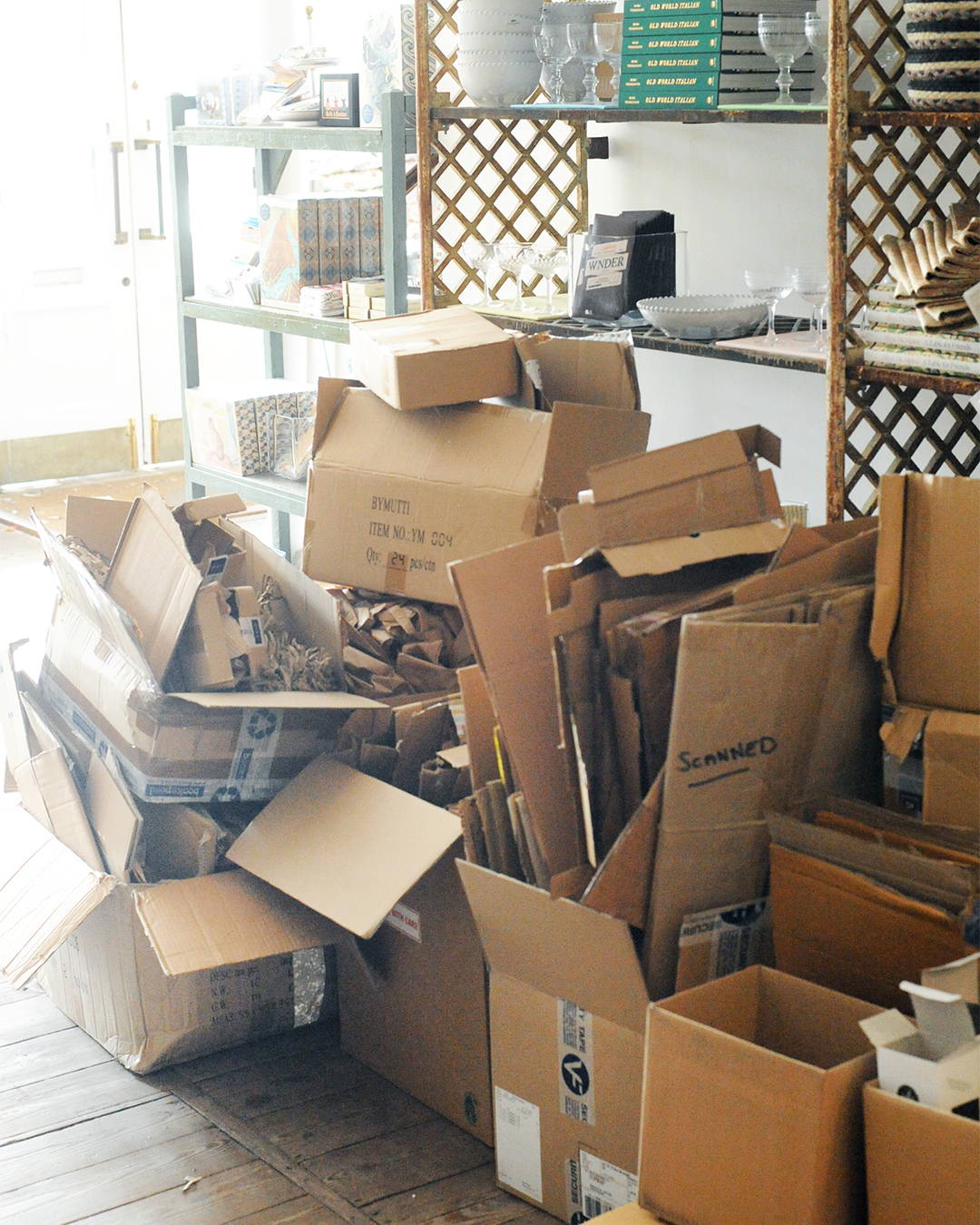 w/c March 22nd
Call with Lottie. Ask her to consider swift return to work. Offer to turn Basement stockroom into creche with poltergeist as childminder. She agrees enthusiastically. Should I be worried about baby Margot? Finn in the building today troubleshooting website. Every order is duplicating itself multiple times, like some rogue genetic mutation. Apparently we took over £1,000,000 this weekend. I can attest that we did not. Bank manager will back me up on this.
Refitting the web fulfilment office (actually creepy attic) with new packing tables. Joe and I attempt to carry large box of new furniture up the stairs. Joe's trousers do not survive this particular journey. Must hide the sweetie jar. Feel this boy's dietary habits are fast declining whilst waistline decline not so rapid.
Sim filming Rob and t shirts. Rob is revisiting his Ibiza days with music to put everyone in the mood. Some of us most definitely in a mood, if not the mood.
Final Zoom call of the buying season. Lucy waves to camera at outset and is then disembodied voice as preternaturally fearful of all forms of photography. I stand slightly to the side. We use Annie as first line of defence and put her in the middle. Fashion agent using his phone for the call. Much of the appointment is spent being whirled around showroom looking at floor, ceiling and agent's feet, very little looking at actual clothes. Finish feeling bilious and dazed and unsure what we have actually bought.