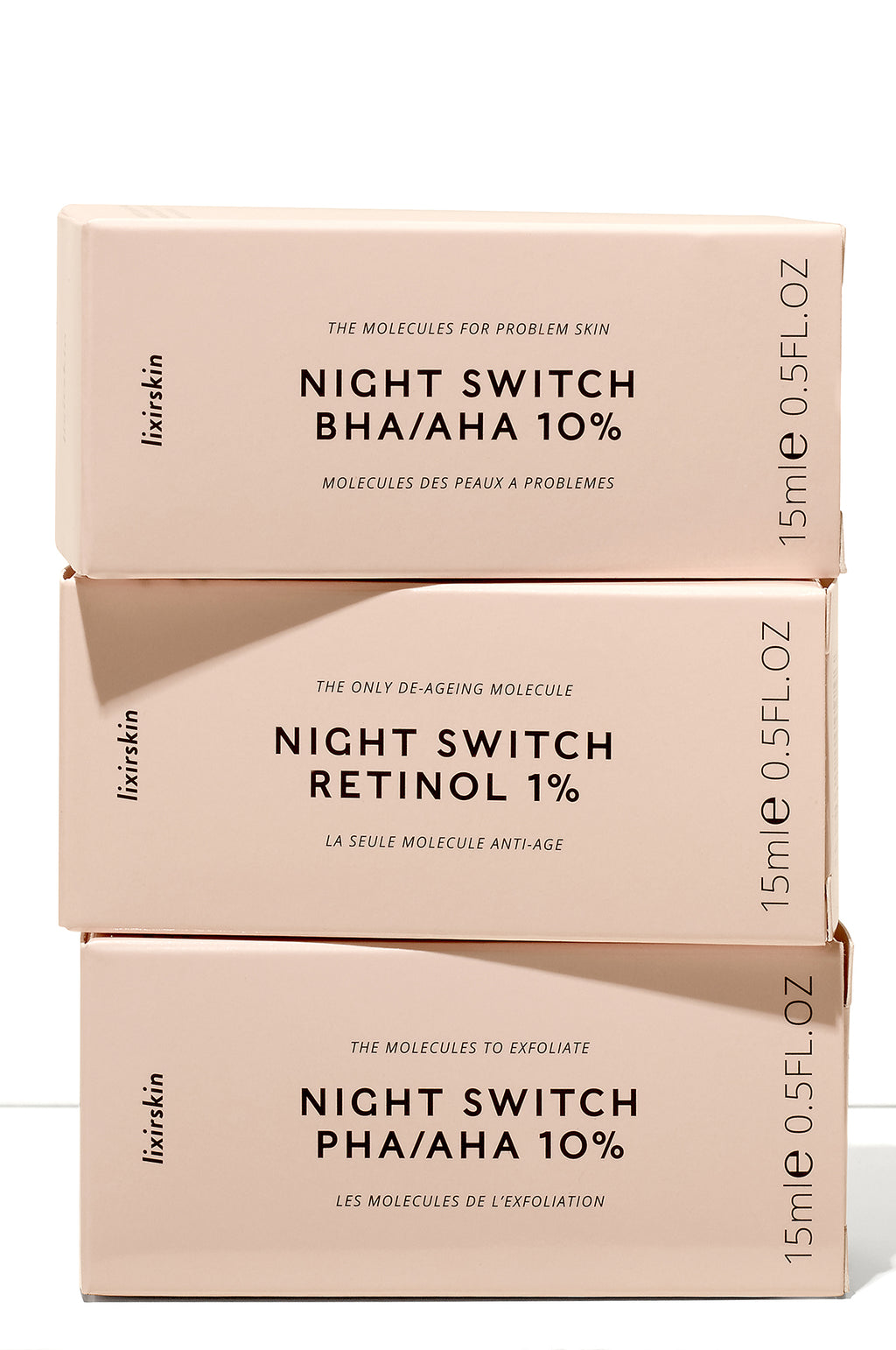 Night Switch PHA/AHA 10% 15ml
Add to basket
The Night Switch PHA/AHA is for exfoliation. It is part of a targeted night care for skin concerns - they are formulated with pure active molecules, for when your skin switches to repair mode. Less is often more; products with too many active ingredients confuse the skin, it works too hard, gets tired and gives up. It is better to ask the skin to do one thing at a time, but to do it well. The skin likes a change. An active ingredient used for too long saturates the skin and it no longer delivers results - Switching stimulates the skin to get better results and avoid the plateau effect.
What it does: A blend of three acids for all skin to exfoliate and dislodge dead and strongly pigmented cells - they also encourage cell turnaround to renew the skin. Each acid offers a special benefit: Lactic Acid improves hydration, Lactobionic Acid reduces oxidative stress and Phytic Acid eliminates heavy metals to detoxify the skin.

How your skin feels: Your skin is quickly even-toned, radiant, plumper, softer and smoother. Gradually, fine lines, pore size and imperfections such as age spots are reduced.
To use: Mix with Universal Emulsion in the palm of your hands, use one pump if you only wish to apply to your face, eye contour and neck, two pumps to include your décolleté, three pumps to include arms, shoulders and hands. Use at night for two weeks, always allow your skin to rest for a few days, then switch to another Night Switch, then start again with Night Switch PHA/AHA. You can also use as a mask, apply three pumps on dry skin, leave for ten minutes and rinse.
Ingredients: Aqua (Water), Sodium Lactate, Lactic Acid, Lactobionic Acid, Phytic Acid, Benzyl Alcohol.
15ml
View the Lixirskin collection ►
Sign up to our mailing list for 15% off your first order