Ali Heath goes Shopping
Shopping Guide - S/S '21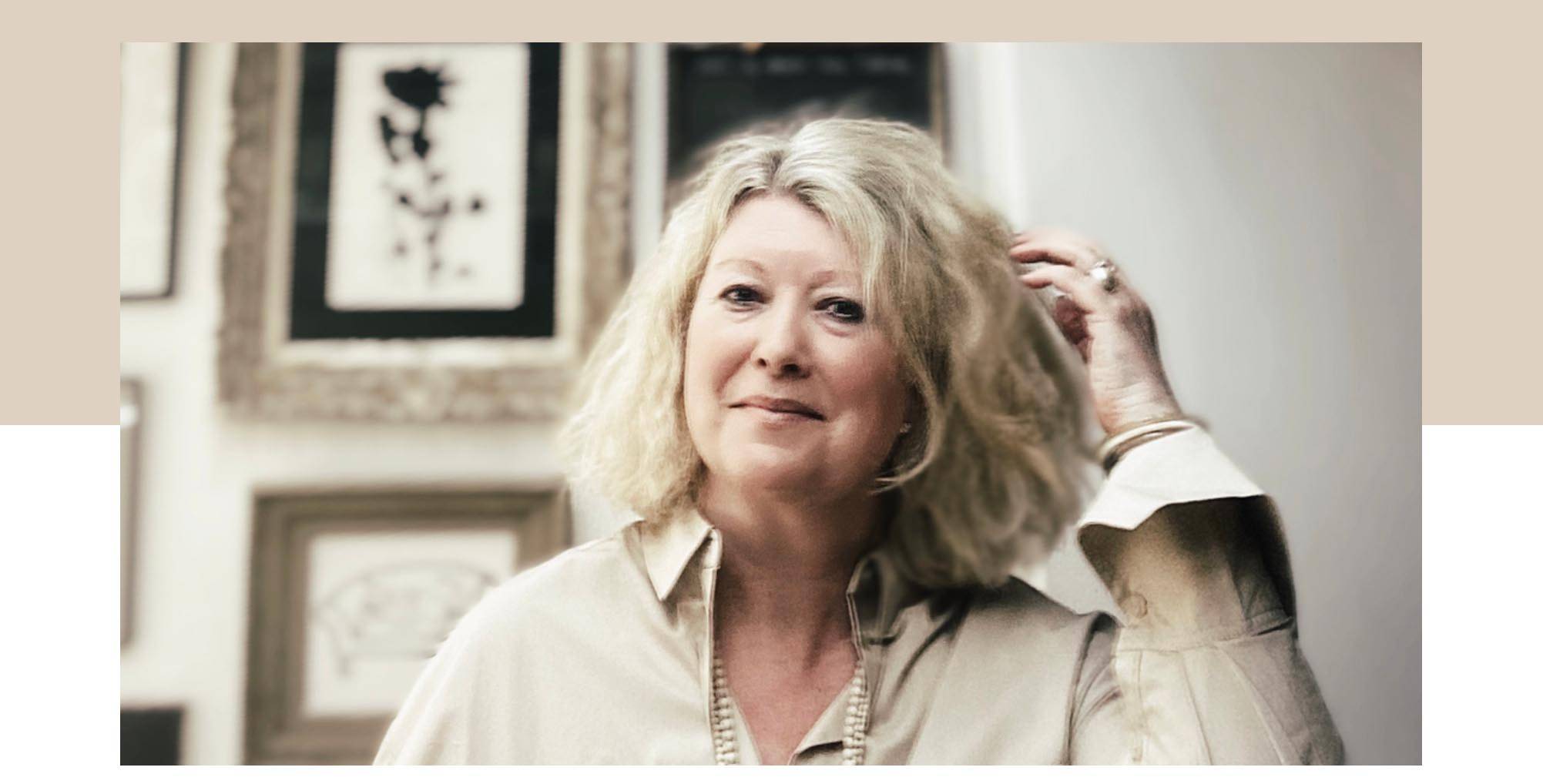 Introduction
Another instalment in our occasional series inviting some of our favourite people to chat about themselves and take a virtual shopping trip round The Hambledon.
Meet Ali Heath: interior writer, stylist, content creator, long time friend of the shop and author of beautiful, brand new book 'Curate'.
What do you do?
Officially I am a freelance interiors writer, stylist, content creator and author, but behind the scenes an art director, brand consultant and interior designer. It feels like a long list of roles – I used to think that was a bad thing, but in recent years I have definitely embraced the power of having a multi-faceted career. The roles intertwine and cross over creatively. In short it is all about storytelling – whether words, images or spaces. I had no formal design or journalism training, but I have definitely built on the foundations of my early career in retail, marketing and brand consultancy. Work life is no longer linear, so it is important to keep evolving; and to create with people who you have a strong affinity with.
Curate is your new book. What's it about?
CURATE has been a really fun project - I pitched the concept this time last year at the start of lockdown, when all my work had been cancelled; and spent the summer developing and writing the book. It has been a wonderful collaborative process with Australian stylist and boutique hotelier, Lynda Gardener, who has styled the interior shots in her beautiful signature style; and Australian photographer, Marnie Hawson, who has such an ability to capture magic in every shot. We have all worked together for about two years now and have become good friends - creatively we are very in tune.
The book focuses on real homes, in a monochrome palette - each layered with natural imperfections, collections, art and a complete mix of old and new. I hope it encourages readers to believe in themselves, follow their style and create timeless spaces, individual to what they love. The first chapter is broken down into eight elements that bring a space to life; followed by ten real homes (including our own homes, Lynda's 6 iconic boutique accommodations, and a beautiful self-build 'shed'); which show in practice, the slow curation of treasured finds. There are lots of informative, break out ideas - hopefully it will inspire readers to ignore trends, and follow their own unique, authentic journey.
Can you tell us a bit about the process of creating a book?
The book has taken a year - from pitching the initial idea to the publisher - them saying yes and the book now hitting shelves. Basically, it started with a topline concept, that I worked up into a visual pitch for the publisher to present to sales. A true pinch me moment of excitement when we were told it is happening! Lynda and Marnie worked their magic together in Australia, styling and shooting. We were lucky to have a lot of control over the creative direction – and Lynda and I spent much time discussing the feel of the still life pages and the overall book. I was allowed to select the final visual imagery to be used, and to specify the design feel and layout for each page on the flat plan – which was brilliant as we wanted to avoid anything formulaic. This really helped shape the writing and content: seeing 224 empty pages, felt quite daunting at the start! Everything was handed into the design team, at the end of September last year and captions written to the final book design in October. There is an intense process of checking the final edit and then it was all handed over to production, to print and ship from January this year. We are selling in the UK, Australia and the US, so for the publisher there is a massive team behind the scenes. Never imagined it to be so intense – but it has been a hugely fun and enjoyable process.
Tell us a bit about your job? We've all heard of a stylist but we might not properly understand what one does!
The styling side of my work is focused mostly on editorial work, but I do also get involved in occasional commercial and brand specific shoots. I wrote a page in the book about 'What is an interior stylist' - it's a role many don't understand but something a lot of people are really keen to break into. I created a series of fun names to describe the role as they sum up the skills needed: The Curator, The Scanner, The Obsessionist, The Forager, The Prop Finder, The Matchmaker, The Homemaker, The Image Hoarder, The Perfectionist and The Visionary. I will share a blog post soon with advice on how to get started.
Where do you get your ideas? And how much do you follow trends?
I get ideas from everywhere, all the time – a building, a piece of art, a remnant of fabric, a tiled museum floor, the way the light falls on a surface, a colour found in nature, a discarded bird's nest – simple things of beauty, mostly discovered by chance. I have a really curious mind and love the spark that happens when one idea, triggers the thought for something much bigger – there is an infectious energy in the power of that. I have endless interior books and magazines though, and also love a tear-sheet and Pinterest board. I do actively look at trend forecasting, as I am fascinated from my brand days about how societal changes will impact our homes and lifestyle. But in terms of pure interior trends – what's new, what's hot, I review them but never really follow them, unless it is something that resonates personally and will stand the test of time.
Which part of your job is your favourite? Ideas, writing or styling?
All of it – to me they are inherently linked: layering each element together creatively, makes the narrative more powerful.
You have worked as an antiques dealer. Do you have a favourite period? Or a favourite country?
When I turned 31, I left a below the line agency, where I had been working as new business director, to take a leap of faith as an antiques dealer – with no experience or contacts. I specialized predominantly in French antiques but now 20 years on I am drawn to all manner of antiques: Swedish, Belgian, Italian, English, mid-century, rococo, decorative – basically anything that catches my eye. It is always a feeling of whether is right and it doesn't have to be expensive. For me it is about making something old, feel current in the present.
You did the graduate trainee scheme at Marks & Spencer. Tell us how that informed your ideas about retail?
M&S was the absolute best training ground – it set a benchmark for standards and for understanding the importance of merchandising, display, sales and customer interaction. I joined them in 1993 and was lucky enough to go to the number two store in the country for my second training period. It was the chairman's local, so the attention to detail was hardcore – I was expected to know every line in my home furnishings collection – how each piece was selling, on the week and the year. Every week I had to walk the Head Office board around my section and at 23 that was quite nerve wracking as they expected you to know everything – without a crib sheet. It also taught me the power of having a voice and recognizing opportunities.
"The Hambledon is always full of quirky independent brands that inspire and feel unique. I never arrive with a wish list, but always end up coming away with a basket of loved things that turn daily events into something special."
Would you describe yourself as a natural shopper?
Slightly too natural!! I am always looking – I can scan a room really quickly and know what things appeal - my head is a walking sourcebook. I never really go out looking for anything particular though – for me it's about finding unexpected pieces that simply make you heart beat faster - whether old, new or handcrafted. I have become more discerning over the years – a monochrome palette definitely helps limit choices.
Where do you live? And how important is your own home environment?
We live in the heart of a pretty town in Surrey, in a 270-year old Georgian townhouse. We've been here for 20 years, it is where so much has happened and where both our children have been born. Home is everything to me – it's the place where I feel totally relaxed and myself.
Magpie or minimalist?
Definite magpie – always layers, but contained within displays that are edited regularly.
Your Instagram (@aliheath_uk) is a mix of your own work, home life and inspiration from art and film. How do you put it together?
It's always very spontaneous – what appeals in the moment, as it pops into my head or inspires on the day. I like it to have an authentic feel - for me rigorous planning would stop me feeling creative.
Do you dress up or down for work? And how would you describe your personal style.
I like casually elegant clothes, with a good cut. I dress in a similar way to how I style home. Lots of natural fabrics and textures: linens, cashmere, oversized shirts, boxy dresses, wide linen trousers and beautiful knitwear – a camel Ganni jumper from you is a favourite of mine. I love Danish brands – By Malene Birger is a go to favourite, and you will usually find me in a palette of white, black, natural, camel and navy.
Can you remember how long you've been shopping at The Hambledon. How you discovered us? And why you like the shop?
I grew up in Hampshire, so Winchester has always been a regular destination for me. I first stumbled across you in an article, 20 years ago, celebrating your opening as one of the first true regional lifestyle stores in the country. I remember literally drawing breath when I walked through the double fronted doorway – unique, inspirational and brilliantly curated. For me, a mix of Liberty-meets-Merci in Paris-meets Alex Eagle – but totally rocking your own look. Every detail and area of the shop is beautifully designed – and the till counter is still on my kitchen island wish list, if you ever want to sell! You have kept evolving and the commitment to the brand really shows. At Christmas I always visit with my daughter, Grace - the kids always have a new Christmas decoration from your brilliant collections, tied to their stockings, and having discovered Mermaid shampoo at your shop, that always features too. You have a great eye for the unique – both with interiors and fashion. There are few shops that make my heart sing every visit – yours never fails to deliver.
What brings you to Hampshire?
I grew up on the south coast, so this was my local stomping ground as a teenager and where my mum still lives.
Tell us a bit about your family
I met my lovely husband at university and now 24 years on, we have an 18, 16-year old and a dog, who feels like another mini human. We are all very close.
What's next in your busy schedule?
I am currently working on new book ideas, have lots of magazine features on the go and am enjoying working on a remote interior design project, with a gorgeous client in Scotland.
Best advice for someone starting out
Be yourself. Trust your intuition. Always work the hardest. Accept that failure and disappointment are part of the journey – and experiencing that will help you know what good looks like. If you are passionate have a go – live, breath, enjoy your work and it will never be self-limiting. Don't stand on the side lines – be passionate, have a voice, and be confident to direct. Always keep your integrity, create your own authentic content and be kind – it goes a long way. Find your tribe and champion others on the way up. Say yes and lose the monkey on your shoulder. If you love what you do – it will show and doors will open.
@aliheath_uk  www.aliheath.co.uk
Ali's Picks
The Hambledon is always full of quirky independent brands that inspire and feel unique. I never arrive with a wish list, but always end up coming away with a basket of loved things that turn daily events into something special: like the scent of the Moroccan Rose Otto body wash and DS&Durga perfume, which remind me of holidays in Italy. I love to entertain and collect pieces from The Vintage List, so this beautiful star vase would be a gorgeous addition to our table along with the hand made placemats and napkins, from The Columbia Collective: they would add edge to any table-scape. The Hambledon is always a favourite too for special jewellery - this Louise Hendricks ring is beautiful; as is the oversized Pernille Croydon bracelet. I love well cut basics, so the jewellery paired with this Lolly's Laundry frilly blouse, is my idea of perfection. Now we are out and about again, these gorgeous notecards from Wanderlust Paper Co are the best - to me there is nothing lovelier than receiving a beautiful, handwritten notes of thanks.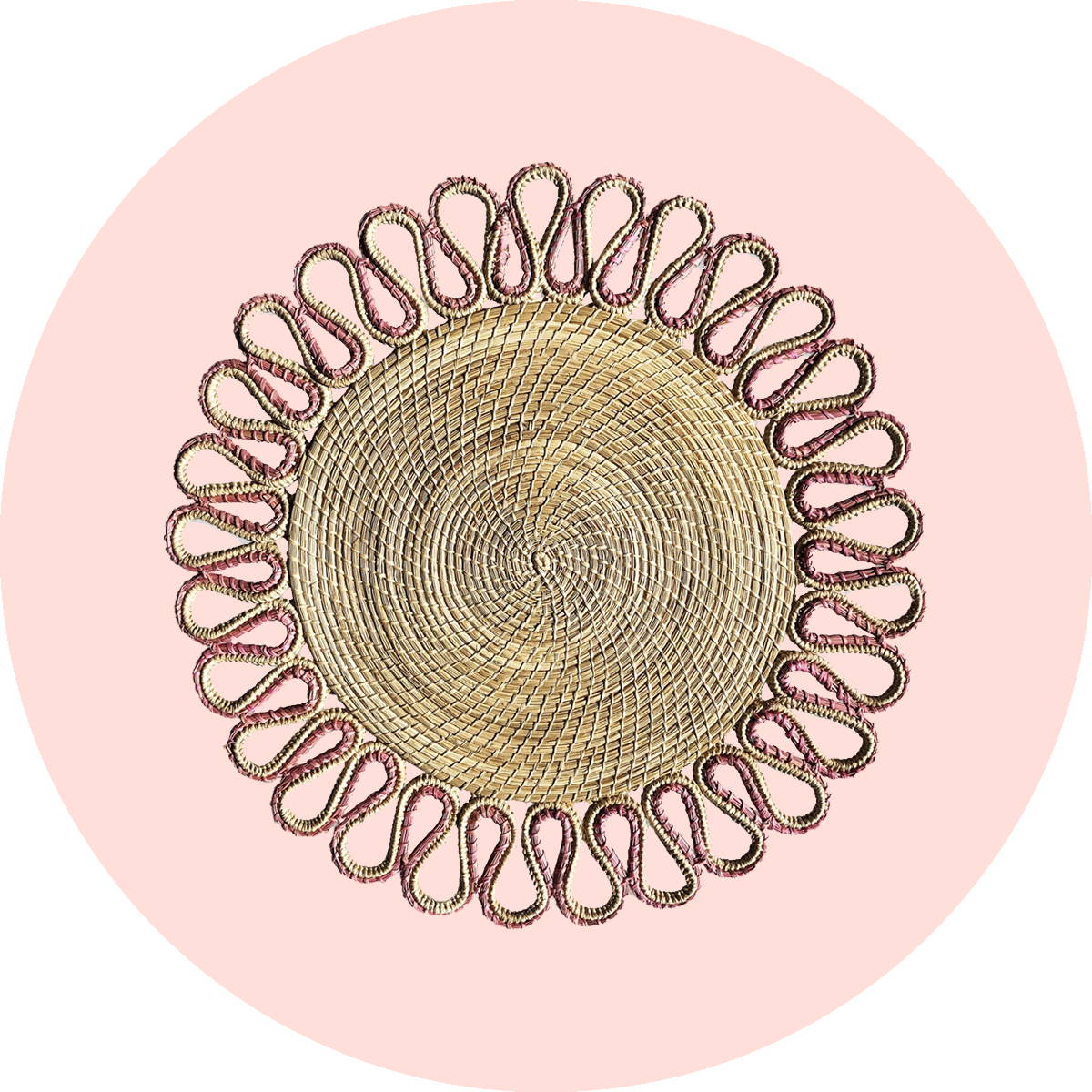 The Colombia Collective Estrella Woven Placemats £128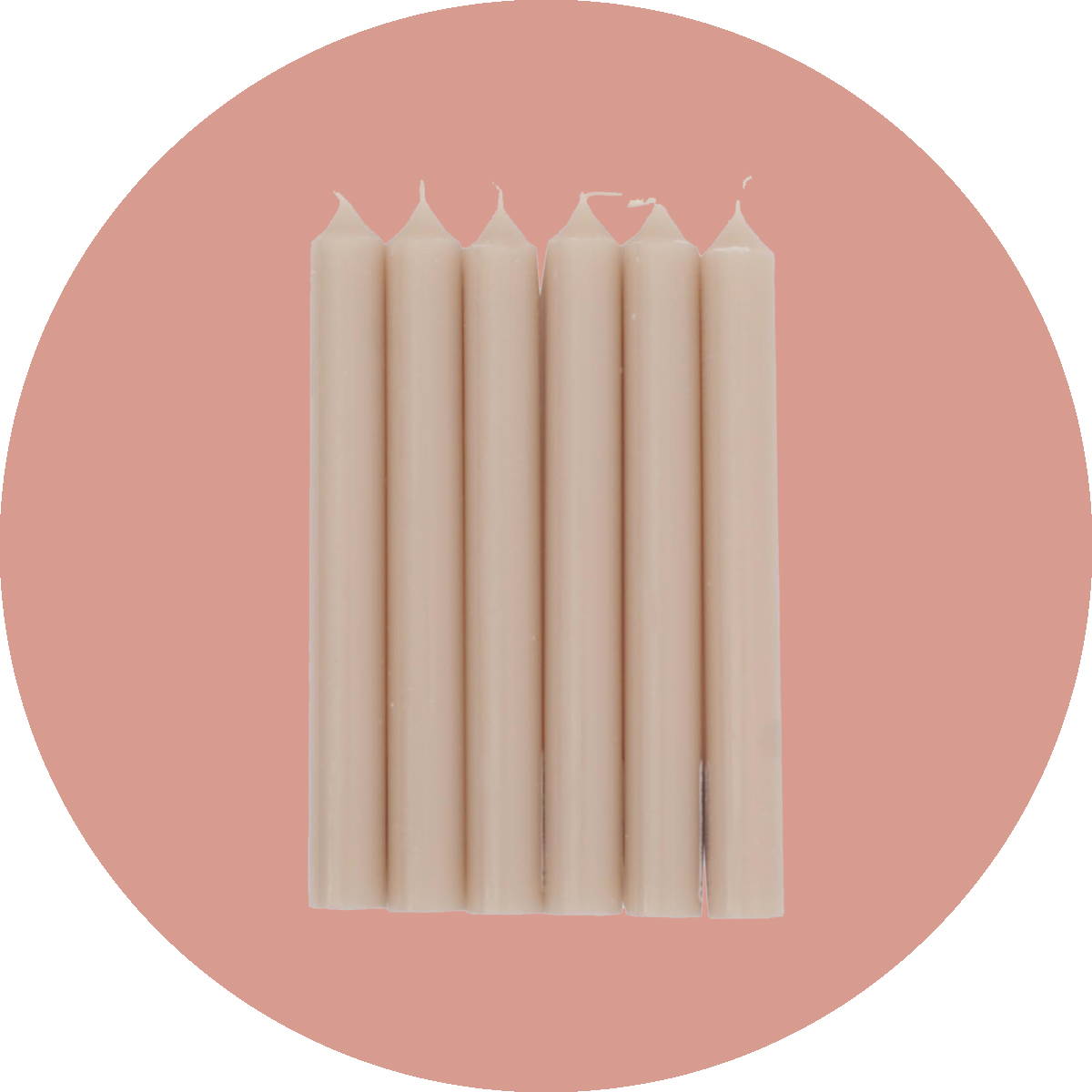 Bougies la Francaise Box of 12 Lin Dinner Candles £19.95