Q&A with Rebecca C. Tuite,
author of Seven Sisters Style
As part of our project with Rizzoli New York and Puckhaber Decorative Antiques, we've had the chance to get nosy with some of Rizzoli's best-known authors. Here we talk to author of Seven Sisters Style, Rebecca Tuite, about the ladies that pioneered preppy.
Tell us a bit about what drew you to this subject
I was lucky enough to study at Vassar College in 2006, and I've been writing and researching about the colleges, their histories and style ever since! I grew up in England, and while I knew about a few iconic Seven Sisters women (Jackie Kennedy attended Vassar, Sylvia Plath went to Smith), it wasn't until I was immersed in life as a Vassar student that I started to become obsessed with all aspects of Seven Sisters history.
As a fashion historian (and, at the time, a fashion journalist), it did not take me long to realize that so many aspects of fashion today are clearly derived from various on-campus trends – especially this American preppy style that never goes out of fashion and has enjoyed a real runway renaissance in recent years. And of course, there are all these style icons, from Ali MacGraw playing Radcliffe girls in movies like Love Story and Goodbye Columbus; to Betty Draper, the Bryn Mawr graduate in Mad Men; and even Baby in Dirty Dancing – we know the style, the garments, and can recognize so many real-life and fictional style icons from the schools, but the Seven Sisters connection sometimes gets lost along the way. So I wanted to give some real credit to the women of the Seven Sisters for their enduring influence on fashion.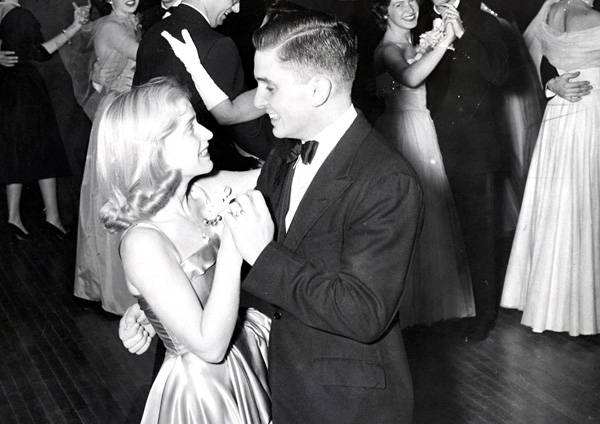 Talk us through the wardrobe staples
of a Seven Sisters girl
I think that we could probably list the top 5 Seven Sisters essentials:
1. First and foremost, Bermuda shorts – no question! Rain or shine, winter or summer, Bermuda shorts were a must-have. In warmer weather, they were made of cotton, linen, or the preppiest of fabrics, madras. In the winter, they would be gray or navy flannel, or a good quality Black Watch tartan. And regardless of season, they would be worn with socks and classic loafers.
2. Next up, a good sweater. There's no question that Seven Sisters students loved their sweaters. Newspapers and magazines from the New York Times to Vogue marveled at their devotion to finding (and hoarding!) lambswool, crew-neck sweaters, preferably oversized men's ones that the students wore either draped around their shoulders or with the sleeves pushed up (after all, it's not what you wear, but how you wear it!). Smarter cashmere twinsets were the order of the day on weekends, though.
3. Jeans were probably the most controversial garment in the Seven Sisters wardrobe, but undoubtedly they were a staple on campus. Seven Sisters women championed denim at a time when a woman wearing trousers, let alone such casual trousers as jeans, was a major no-no! Jeans were worn with a loose-fit, rolled at the ankles, and an air of defiance!
4. Button-down shirts were always on hand – either a Brooks Brothers shirt borrowed from a brother or father, buttoned loosely with shirttails left flailing or tied at the waist. Or a slimmer fit McMullen, floral print cotton blouse for smarter occasions.
5. Finally a good weekend dress for all those dates, proms and parties. A good cocktail dress from Peck & Peck was always popular.
Who is your ultimate all-American style icon?
It has to be Jackie Kennedy. Whether we're talking about her younger debutante days, her Vassar "equestrian-chic" looks, her simple and elegant First Lady style, her perfectly preppy off-duty fashions for casual summers on Cape Cod, or her devastatingly chic later New York City days, she is a barometer for all that I adore about American style.
You studied at Vassar in NY, one of the Seven Sisters colleges, tell us about your experience?
It is very, very special. I found my time at Vassar to be very inspiring and transformative, and even though the Seven Sisters schools have certainly changed a lot since the heyday of the style in the 1950s, there is a heritage, history and spirit that is still treasured and respected by students and alums
Attending Vassar and living in NY, has a bit of the all-American spirit influenced your personal style?
Absolutely! I had always leaned towards the tomboy preppy style, always "borrowing" my Dad's Ralph Lauren and Tommy Hilfiger button-downs and crew necks, which I know drives him mad and he keeps the good ones under wraps these days! But a lot of that was my first exposure to the whole idea of American preppy fashion growing up in London. So there was plenty I had in common with the Seven Sisters women when it came to fashion, but it has really been satisfying to reconsider a style I gravitated toward so naturally, despite my distance from its East Coast origins, and think about all this history and all these traditions that we can trace back to the Seven Sisters.
What do you think about the look that makes it as relevant and appealing today as it was yesterday?
I think because it's about so much more than just clothes, it's a look that has this rich history behind it and is rooted in an appealing spirit of drive, ambition and inspiration. It's also really universally relatable and flattering, these are classic clothes that feel great and have effortless style, which is always going to be a winning combination. Whether you grew up on America's East Coast or in Winchester in England, the preppy style has something for you!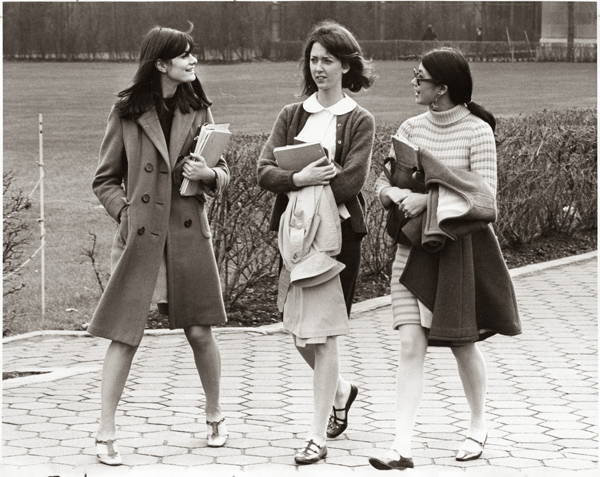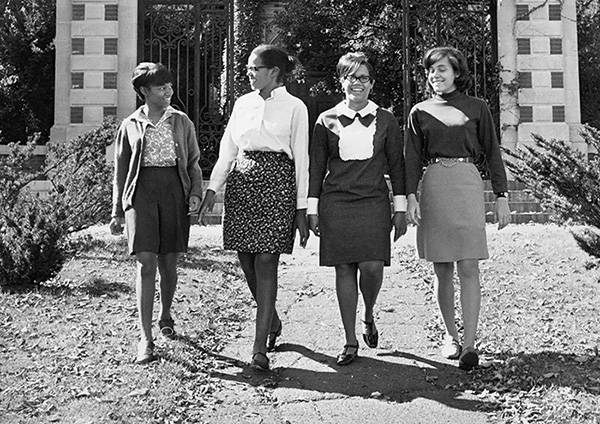 Which five words best describe the Seven Sisters Style?
Classic. Independent. Fun. Elegant (sometimes!). Timeless. OK, that's six, I guess, but hopefully you'll forgive me!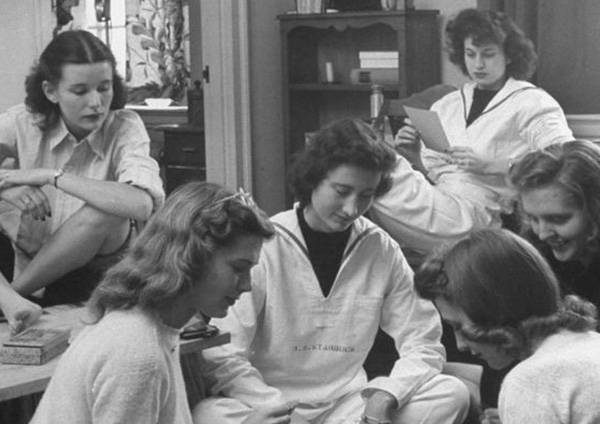 If you could go back to a time and place, where and when would you go?
I would go back to Vassar in the 1950s and become friends with some of the amazing Vassar women of that era that I have met and interviewed in recent years. We would go to the Alumnae House for "Vassar Devils" (a very sickly chocolatey treat), go to as many classes as physically possible and spend weekends at Ivy League parties, museums in NYC or playing bridge in my dorm room! I'd be wearing Levi's rolled at the ankle with a men's Brooks Brothers button-down shirt (not too far from my off-duty style today!), but on the weekends, I would get my hands on as many classic, full-skirted Lanz dresses, cashmere cardigans and strings of pearls as I possibly could!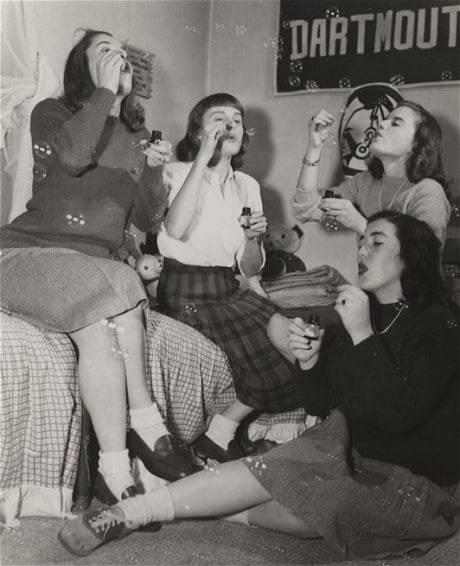 The book is full of wonderful photographs, do you have a favourite?
So difficult to choose just one! I am completely head-over-heels for every woman and outfit featured in this book, but there is one photograph of Mount Holyoke students gathered together in a dormitory and blowing bubbles in 1945 that always makes me smile. They are wearing the best example of unfussy, classic Seven Sisters Style: Kilts, flannel skirts, crisp white button-downs, classic preppy saddle shoes, loafers and socks, crew neck sweaters and strings of pearls. But I just love the spirit of the photograph; this sense of solidarity, fun and friendship, not to mention impeccable and completely irresistible preppy style - that's what Seven Sisters Style really is to me!
Finally, if we were visiting New York, where would you take us shopping?
In terms of fashion, we would first visit the Kate Spade store on Madison Avenue. It's a full townhouse filled with amazing preppy goodness! It's like someone took all my favorite styles and then put them inside my dream home! Of course, we would pop into J. Crew; I always like the Columbus Circle store to pick up a few classic preppy essentials, like their Toothpick jean (my go-to), a perfect shirt (their pop-overs and button-downs are my uniform) or one of their oversized cashmere sweaters (check out the men's department).
In terms of jewellery, I like super thin, super delicate styles, so I'm always obsessed with something from Catbird in Brooklyn. I love shopping for my kitchen more than anything else, so I would also take you to Fishs Eddy downtown to find the most eclectic, fun and affordable kitchenware. And Sur La Table is dangerously close to my home, and another place I like to browse when I should be writing! After all that shopping, I'd take you to my all-time favorite restaurant in NY – Rucola in Brooklyn. It's this tiny place, very rustic and the food is extraordinary – you have to have their crispy Brussels sprouts if they are on the menu!