Provenance: Antoinette Poisson
The most beautiful stand at a Paris show; a few months of considering the pure loveliness of the work; a very happy time stalking them on Instagram; and a long and winding walk around the streets of the Marais which led us to a hidden courtyard and a modest doorway and into the world of Antoinette Poisson. Such is the journey of a buying decision at The Hambledon.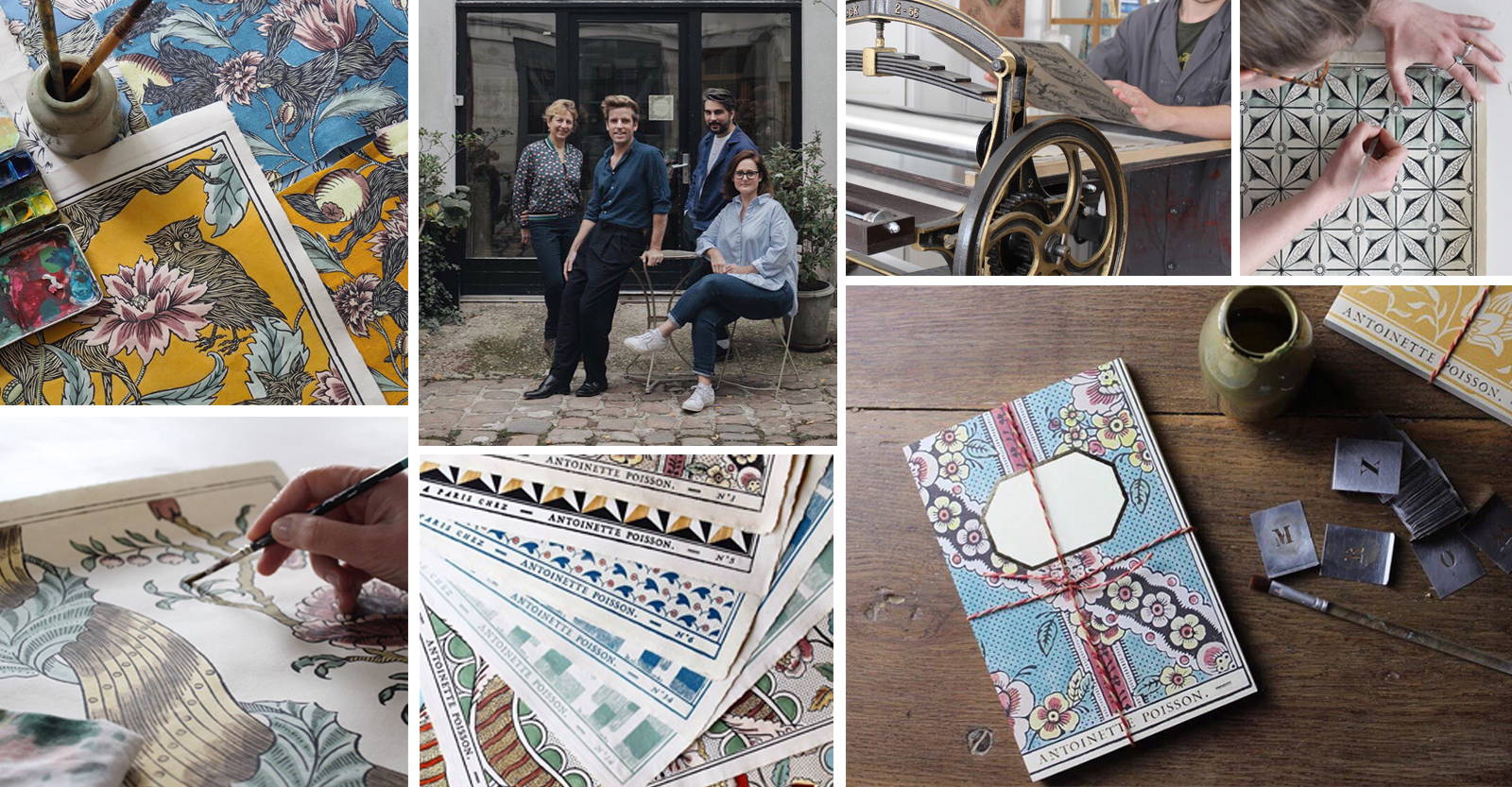 Antoinette Poisson, founded in 2012 by paper conservators Julie Stordiau, Vincent Farelly and Jean-Baptiste Martin, make paper. But this hardly describes the marvel and loveliness of what they actually do. Named after Lous XV's favourite, the Marquise de Pompadour, Jeanne Antoinette Poisson, the company is reviving the Age of Enlightenment art of the dominotier: the printing of ornate motifs on sheets of paper, distinguishable by their unique size of 45 x 35 cm, using engraved plates and applying colour with stencils and featuring geometric or floral patterns. These decorative sheets are called 'dominos'. Used to line boxes and chests and furniture, to bind books and to cover the walls of small rooms and alcoves, this paper is essentially the precursor to modern day wallpaper. It became hugely popular with the upper classes in the 18th century but, with the advent of the industrial revolution and machine technology, was a relatively short lived fashion.
The production of Antoinette Poisson's 20th century 'papiers dominotes' is a combination of historical accuracy and a little modern intervention. A paper mill near Aquitaine produces the paper (made from antique linen and hemp, shredded, hammered, soaked and sieved to make a pulp which is then dried and pressed and formed into sheets). Another company produces the metal engraving blocks from which the paper is printed. On our visit to the studio in Paris, sheets of painted paper were drying on airers. A studio assistant was carefully applying sheets of papier mache over cardboard forms to produce the decorated boxes. The designs are also applied to high quality linen for Antoinette Poisson cushions and fabrics.
The trio have collaborated with clients as stellar and varied as Alessandro Michele at Gucci on a block print runway spectacular, jam maker Confiture Parisienne on a very limited edition 'Puits d'Amour' jelly and classic French china manufacturer Gien. But the studio and showroom we visited were strikingly small and unshowy. This is a company of immaculate attention to detail and quiet industry. There were piles of books of period inspiration, a few perfectly chosen antique objects (which, believe me, we tried to snaffle) and some old fashioned folios from which to make our notebook selection. Antoinette Poisson will be bringing a very beautiful kind of maximalism for the season to The Hambledon.