Provenance: Amatller and Simon Coll
We give you the low down on The Hambledon's newest, and very prettiest, chocolate imports.
How did we find them?
Life in retail is lovely. Except when you need to find a birthday present for a work colleague and the shop sells most everything they covet. And you desperately want to find a surprise; something they've never seen before. So Lucy burrows down into her rabbit hole of Instagram inspiration and unearths these beautiful chocolates. And the beauty of the packaging transcends their delicious chocolatiness (for Lucy, as you well know, hates chocolate). Birthday treat solved. New shop supplier found.
What is Amatller?
At the beginning of 1797 Gabriel Amatller established his chocolate workshop in the heart of Barcelona, not far from the towers of the gothic cathedral Santa Maria del Mar. His artisan chocolates soon became popular with the wealthy families on Argenteria Street and in the Born and Ribera quarters. His ability and determination to excel in the chocolate trade made his small workshop prosper, and soon he acquired his first stone grinder. Over time his two sons Antoni and Domingo expanded the business importing and trading, ensuring the best supply of cocoa, sugar and vanilla. In 1878 Antoni, grandson of the founder, took over the business. An inspirational work trip round the leading chocolate factories of Europe led to investment in a brand new factory and modern machinery and Amatller began a period of rapid growth. The company remained in family ownership until the death of great grand daughter Teresa in 1960 when it was bought by the equally family owned Simon Coll Chocolate company.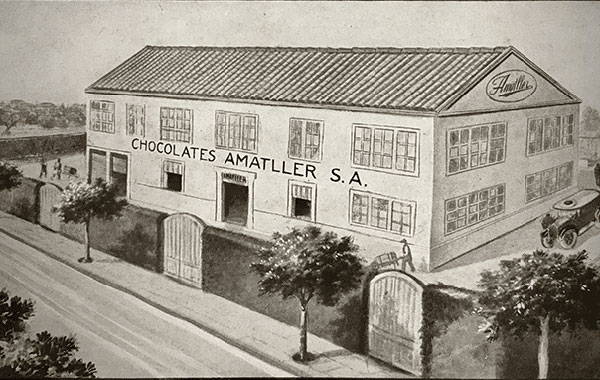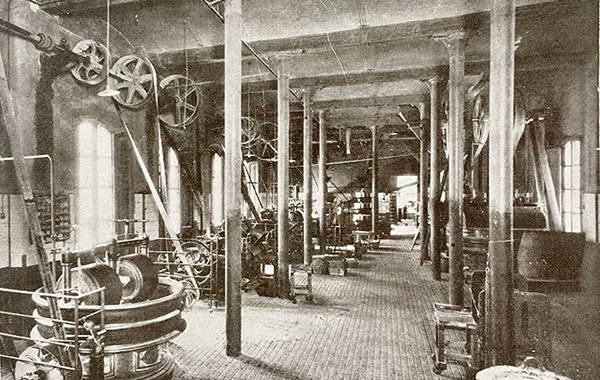 Art, Design and Amatller
Antoni Amatller, as well as being a preeminent chocolate entrepreneur, was also a significant patron of the Modernist Art scene in Barcelona. With his commercial acumen and art knowledge and connections, he began to market Amatller through posters and collectible cards. When his daughter took over in 1910, she continued to develop their art connections, collaborating on a Spain wide poster competition to drive sales and build brand awareness. During the Thirties Amatller pioneered the use of photography in advertising and the Fifties saw a resurgence in interest in collectible card albums and were particularly useful for establishing a younger customer. In 2007, with the Coll family at the helm, the company revisited its extensive archive of graphic design and launched a new range of products which referenced their ornate and beautiful past.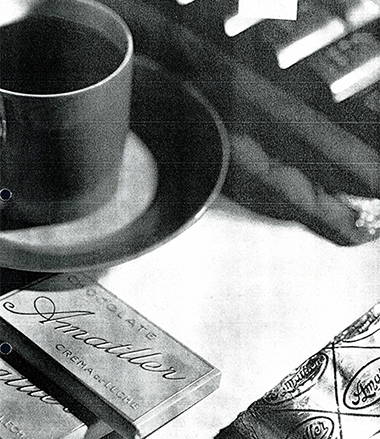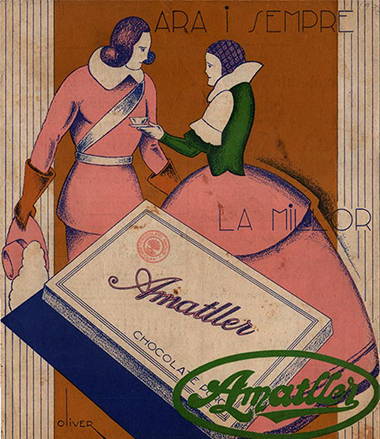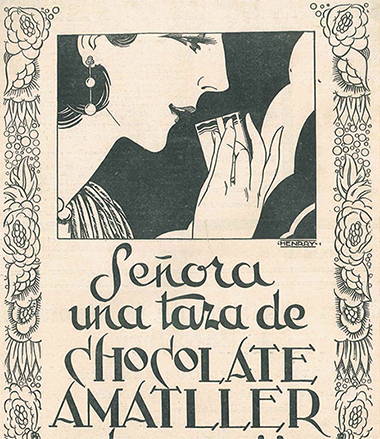 Casa Amatller
We're not really here for tourist advice but when you next travel to Barcelona (and please may that be in the near, rather than dimly distant, future) make sure to visit Casa Amatller, located in Passeig de Gràcia 41. This was once the family home, designed by one of the trio of famous modernist architects Puig I Cadafalch in 1900.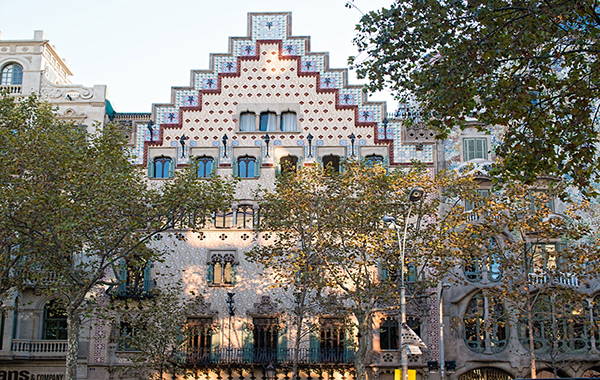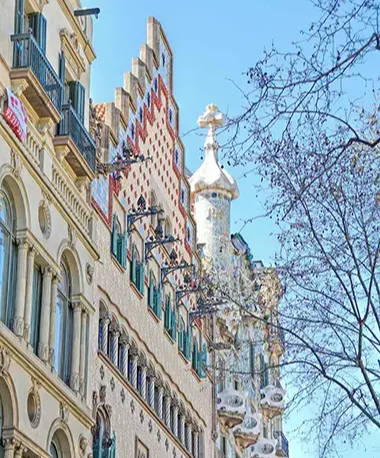 It is now open as a museum so you can nose around the house and follow up with a classic Chocolate a la Taza (or 'xocolata a la pedra' in Catalan because the cocoa beans were cut on a stone or pedra). This is one of Amatller's iconic products, in vanilla or cinnamon flavours. Failing a trip to Spain, visit Winchester and you can find a block here.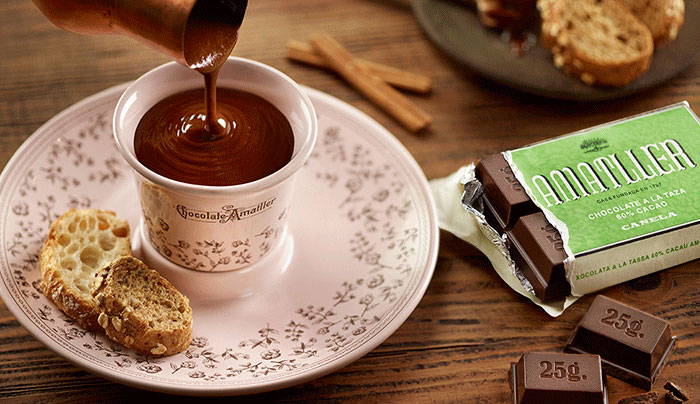 To prepare it correctly, just follow these simple steps:
1. Heat 100ml of water or milk
 

2. When hot, add 50g of chocolate (2 servings) and blend in.
3. Bring to the boil and keep stirring until you achieve the desired texture.
Chocolate Amatller drinking chocolate contains cornflour, which must be boiled to give consistency and thicken the chocolate.
I'm Hungry. What Can I Eat?
You can eat White Chocolate, Milk Chcolate or Dark Sea Salt Chocolate Leaves. You can eat Raspberry, Hazelnut, Cappuccino, Cava, Cointreau, Orange or Passion Fruit chocolate flowers. You can eat Chocolate Pencils. You can eat Chocolate sardines. You can 'smoke' Chocolate sticks (we're not allowed to call them cigarettes). You can wash it all down with some delicious hot chocolate (see above) or some Chocolate sparkling wine. Tummy rumbling? Head this way.