Granada Ceramics
Or why you needn't worry about getting to Andalusia this Spring. We are bringing Spanish ceramics to you.
What is Granada Ceramics?
Handcrafted in the rolling Andalusian hills of southern Spain (we want to go there already, it sounds so sunny), the Granada Ceramics collection represents artisanal traditions that span centuries. Each piece is single-handedly created by one artisan. His name is Juan. A born and bred Andalusian, he has been creating ceramics for more than 40 years. To say his work is a labour of love is an understatement; Juan controls every step of the hand made production process. The method is meticulous, starting with each piece being moulded in terracotta on the wheel, then left to dry in the sun, baked in the kiln, varnished, painted beautifully and then last but not least returned to the kiln for completion.
The History of Andalusian ceramics
The craft has had a continuous presence in Southern Spain nice the Neolithic era and appeared in Granada during the Nazrid rule of 13th to15th centuries. Nazrid pottery originated in the workshops on the hills near the Fajalauza gate, one of the ancient gateways to the city. Traditional designs feature the granada (or pomegranate and is, less happily, where I think we get the term 'grenade'), birds and flowers. Once a buoyant business that dominated Andalusia, the successive economic and construction crises of recent years has diminished the artisan ceramics industry in the area by more than 90%. Juan and his Granada Ceramics are on a mission to stem the tide.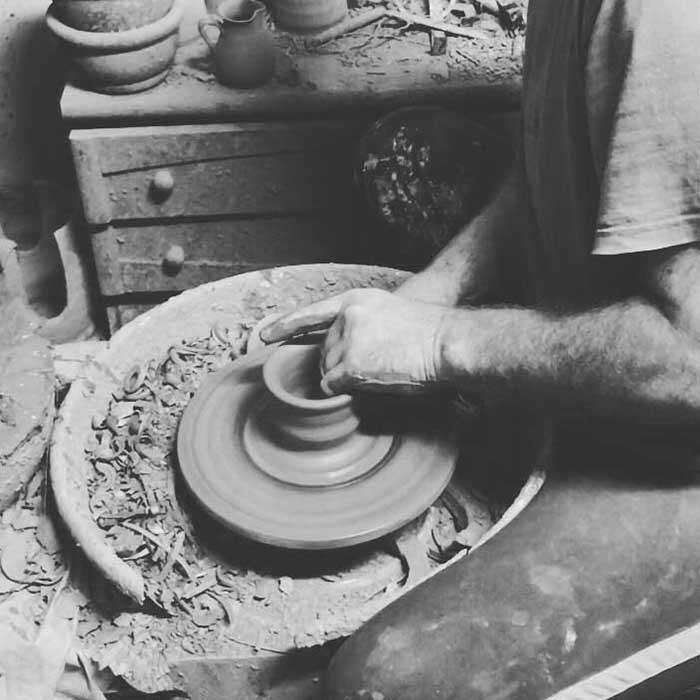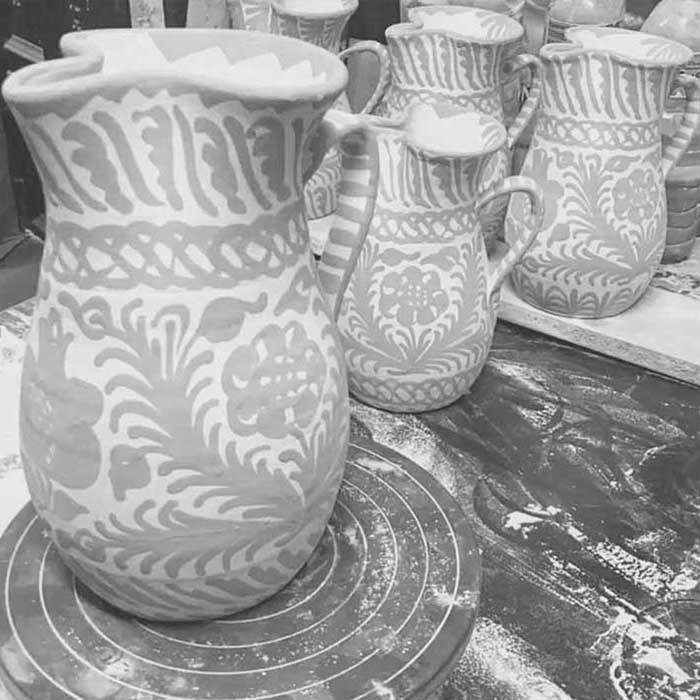 How will I use my new ceramics?
You will be laying a beautifully bold table. Mixing the coral and green (verde if you will) for some clashing drama. Picture yourself in a holiday hacienda and channel those feelings. We'll be helping you accessorise throughout the season with new glassware, basketware, table linen and vases.
If you're not currently socialising on a major scale, all the pieces (with the exception of the jugs) have hanging holes. We're going to do a plate wall (see our Pinterest board for some inspiration). You could choose a single colour as the theme or mix and match with other ceramics in your collection.
Because each piece is handmade and handpainted, there will be slight variations in pattern and colour. Don't consider these as imperfections but instead as charming indications of authenticity.
How do I care for my new terracotta?
All pieces, given their historic origins, are surprisingly well adapted to the modern world. Dishwasher safe and microwave safe. Just don't use them in the oven. Take care with the glaze and avoid being too heavy handed.
Everything is available online now. It also features on our inspiration Pinterest board 'Sunny Side Up' if you're looking for something cheering.
Granada Ceramics is a 500 year old style of pottery originating from - you guessed it - Granada, Spain. Each ceramic is handmade and hand painted so has its own charming story to tell, featuring traditional designs of birds and flowers.