Christmas at The Hambledon
It's a Technicolor wonderland in our beautiful Christmas department.
With our General Store and The Halcyon 1940s feeling for our Autumn stories throughout the shop, we've looked to the escapism of Forties Hollywood for our inspiration this festive season. This is a full on Technicolor version of the perfect family gathering. This is 'Shop around the Corner', 'Miracle on 34th Street' and 'White Christmas'. We have made over the Project Space in Germolene pink emulsion: institutional austerity meets period luxe. And Lucy, our very own Chistmas Elf, has worked her magic to create a sparkling space.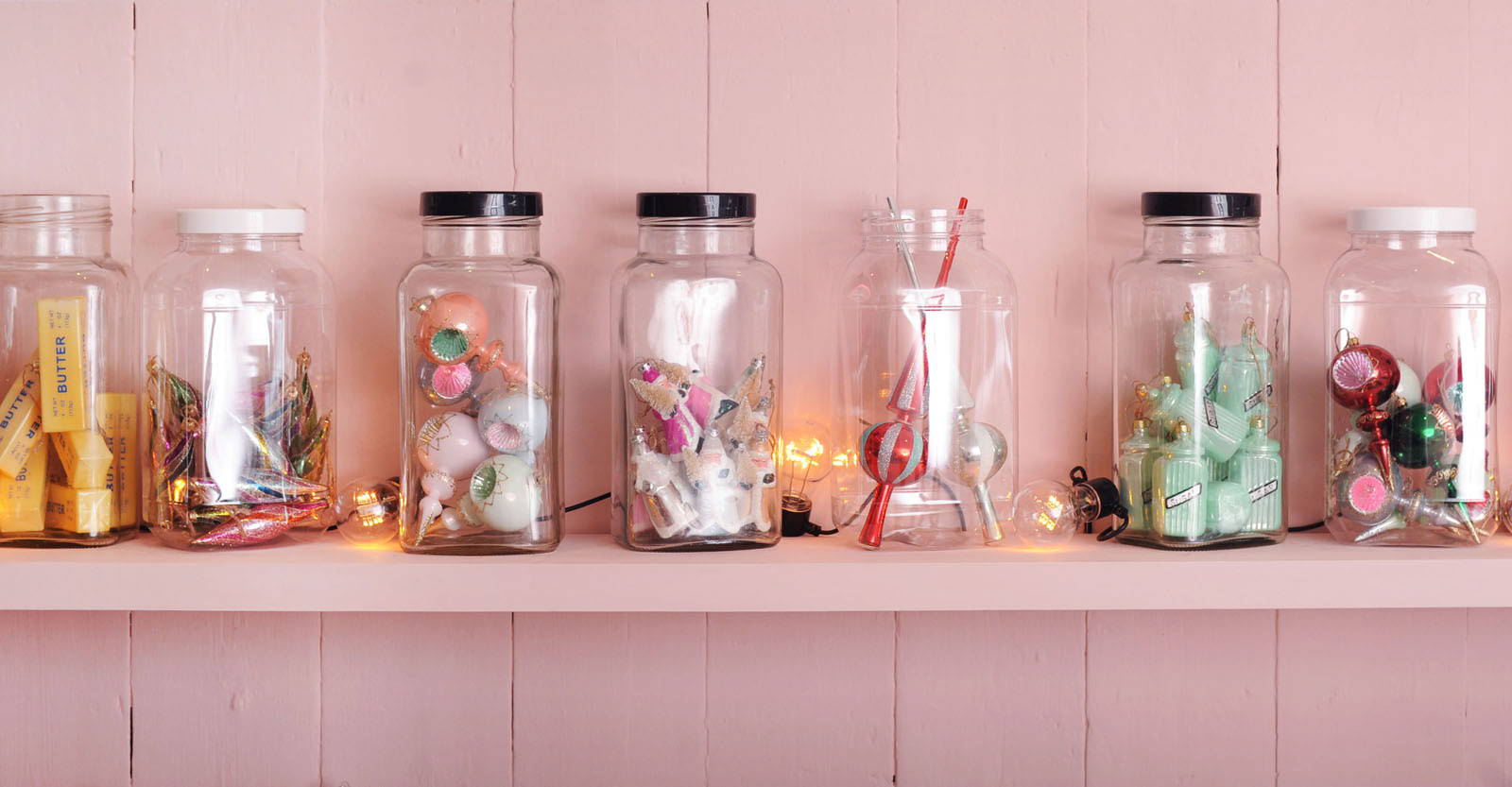 The Decorations
Choosing Christmas decorations is one of our very favourite buying briefs of the year. A trip to Paris for the big homeware show in January and a very distracted hour or so was spent lost in a world of seasonally appropriate fake snow and evergreen trees. Sadly Lucy was unable to attend as her dog was poorly sick but I managed to make a preliminary selection to which we added and added and added back at the shop.
Choose traditional glass spindle ornaments in pastels and brights, outsize striped tree toppers, frosted glass and tinsel stars, tinsel ribbon and glittered multi colour bottle brush trees. And we've ramped up the kitsch with candy coloured cats, Belsnickels (I know, I had to look it up. A Belsnickel is a crotchety, fur clad, Christmas gift bringer, related to Saint Nicholas but altogether a little creepier), fairies and a cheery lumberjack. And even though we're totally over (were never actually into if truth be told) the whole indoor plant thing, who can resist a set of pastel cacti? And if you're feeling peckish we have ketchup, mayonnaise, dill pickles, watermelon slices and sticks of butter baubles.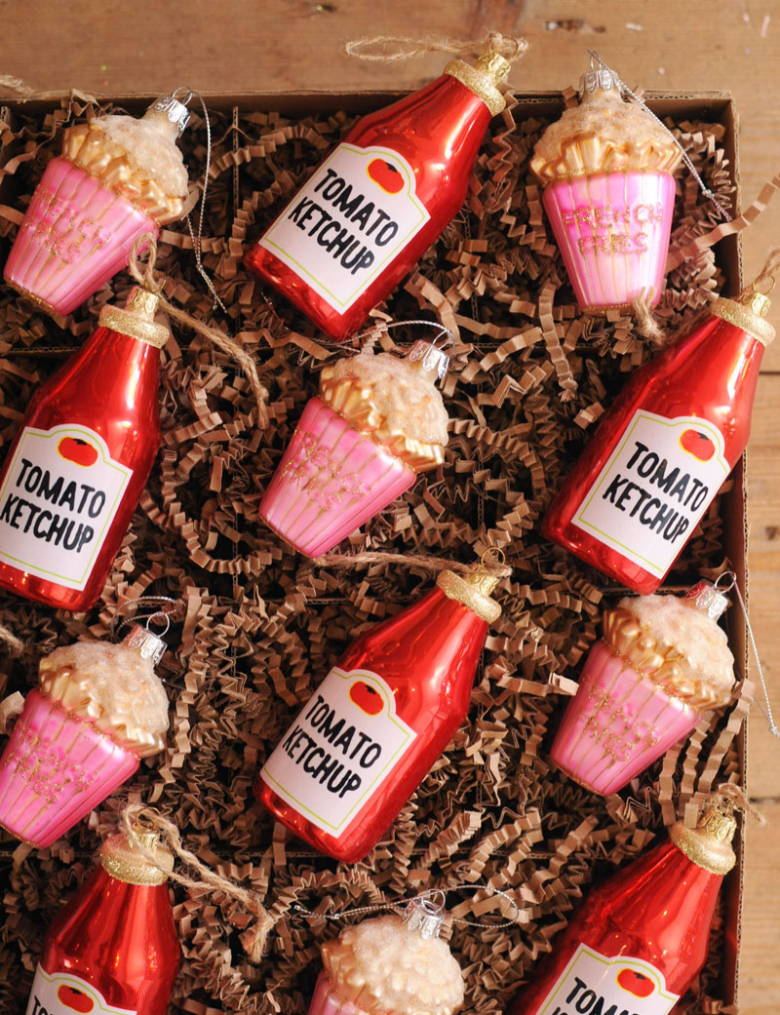 The Edibles
Our lovely friends at Melrose and Morgan are purveyors of all things grocery. Check out their amazing mince pies, brandy butter and stollen bites. We have candy canes and chocolate pipes and popping candy matches from Mr Stanleys. And James Cadbury (yep, a great great great grandson) is trying to change the world of chocolate with his new Love Cocoa bars and truffles. Best selling flavour here Avocado. Second best Gin and Tonic. It seems our plans for health and wellbeing only go so far. 10% of profits go to the Rainforest foundation.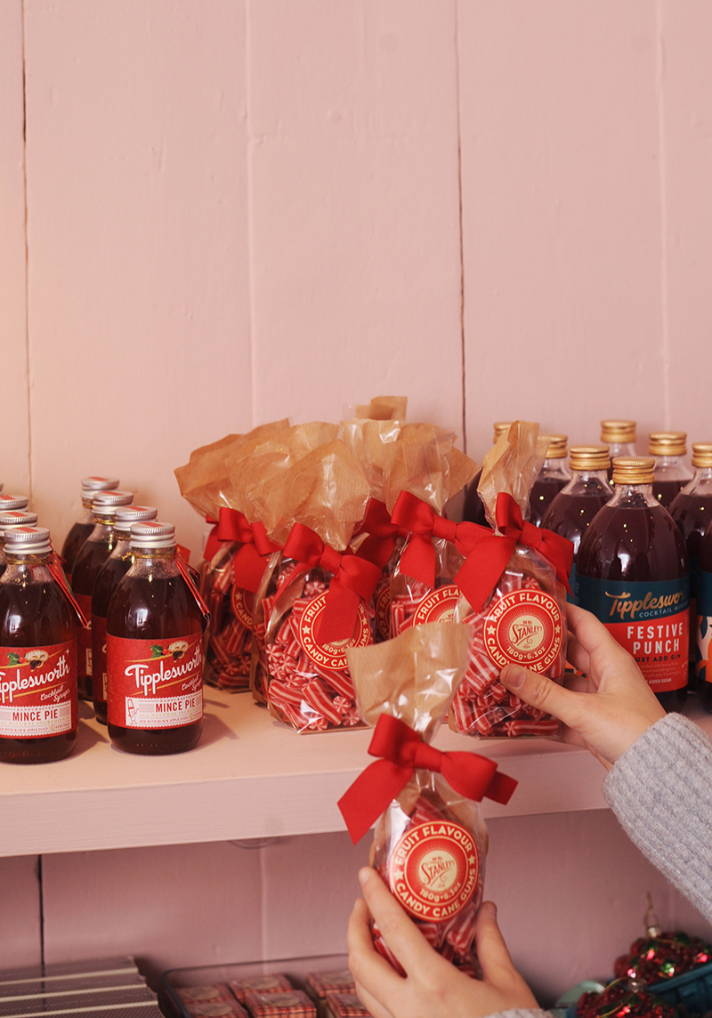 The Space
We're loving the whole traditional shopkeeping thing this season. We've filled vintage glass sweet jars with decorations and treats and reels of tinsel. This is pick and mix heaven. Our faithful metal supermarket trolley has been seconded to the cause and is overflowing with glitter and shine and sparkle.