We hope Cats Brothers at The Hambledon feels like something of a homecoming. Tell us about your time at Winchester School of Art
It certainly does! The Hambledon was always a destination shop for the design students at WSA – especially when those student loans had just landed lolz. It's such a lovely notion that now my own designs are in-store, hopefully being appreciated by some of the current students.
WSA has such a fantastic reputation for their Fashion and Textile departments and I had come back to studying after some time out – I'd started my degree in Belgium and then had run off to live in San Francisco for a while…so by the time I was at WSA I was pretty committed to getting that degree. Without the amenities and distractions of a bigger place like London I think, at the time, WSA students were inclined to look for their inspiration in maybe less obvious places – which I think was/is refreshing. Winchester was always such a funny little place with the strangest mix of eccentric locals and then the art students – we hung out in pubs like the Black Boy, the Mash Tun and The Railway Inn, picked up wicked finds in the local charity shops, and there were definitely some big all-nighters out in the woods!!
Why the name Cats Brothers? And, as a stickler for grammar, why no apostrophe?
I started Cats Brothers with another WSA student, Anna Wilkinson, who I was working with in a textile design studio in London. Anna was shopping for vintage artworks for the studio when she came across a pretty random, hand-painted image of 2 rather demented looking cats and emblazoned with the words Cats Brothers – no grammar.
We have no idea who painted it or what it meant to them – but it spoke to us, we kept it, and a few months later we started Cats Brothers.
I've always liked the idea that the name suggests a collective as I love to work with new and different people, and it feels inclusive – like everyone who participated in the making of a collection was part of the Cats Brothers gang!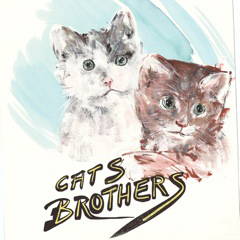 You are famously inspired by an eclectic range of things, including street style, rap music, fine art and traditional handcraft. What's your eye on at the moment?
I've been looking at 60's pop illustrators like John Alcorn, and I'm especially enjoying the way embroidery lends itself to a more organic, illustrative style – I feel like I'm drawing when I embroider, before settling on Textile Design I had begun studying illustration.
I'm also looking to begin ceramics…..so that could throw up something interesting!
We laughed out loud when we first saw the knitwear. Is humour important in your collections?
Always! There is always an irreverent twist or aspect to my designs - our tagline is "clothes which are as fun to wear as they are to make…." we like to have a laugh while we're working – life's too short to take yourself too seriously!
Saying that, I take my business and my craft seriously, and the Cats Brothers style…I'm not trying to dress people like clowns!
You have won loads of awards and accolades, what has been your proudest Cats Brothers moment?
Being invited into Vogue House a week after our launch to show the first collection CRAZY HOMIES to all of the fashion editors was pretty epic!! We had NO idea things would snowball the way they did, so there was definitely lots of nervous giggling and sneaky photos being taken.
That day, and again the first time I took the collection over to Paris Fashion Week were significant moments when I really felt that I had achieved something and was being taken seriously as a designer.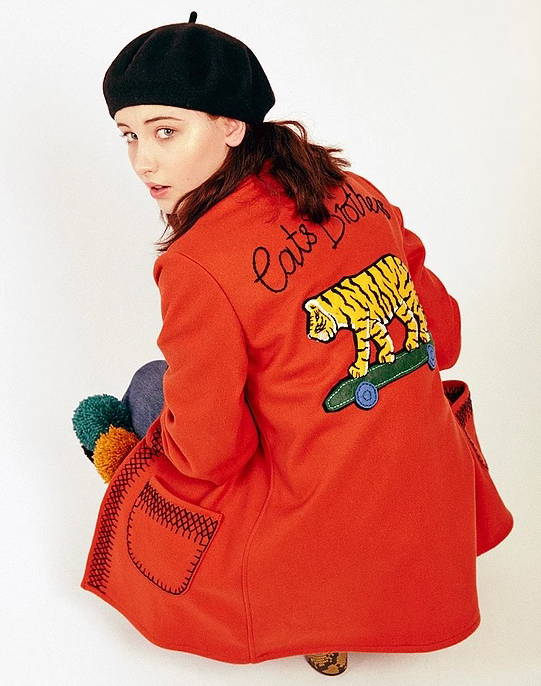 Describe a typical day at Cats Brothers HQ
Typical is tricky as there's always something new on the go to change up the routine – but generally we start the day at 10am with a coffee and a quick catch-up to list the day's priority jobs. My preferred days are those at the beginning of a new project/collection where I'm creating the concept, making moodboards, sketching, and we've got people knitting swatches, crocheting, playing around with graphics on photoshop…and we're just bouncing ideas around. That's the most exciting and creative part!
We also have a business to maintain so there will be admin, social media, press loans, production, and a host of other jobs to do. We always stop and make lunch together too – I think it's important to take a break, take the time to slow down, breath and chew the fat with everyone, even amidst the mad periods.
Who or what couldn't you live without?
My tight, and ridiculously silly, crew of close friends that are a constant source of support and entertainment. And trainers…..
As a former Wintonian what's your top tip for a visitor to the city?
There are some lovely walks in and around Winchester – the catherdral obvs, the Water Meadows I'd defo stop into the Black Boy for a drink – does it still have gynecological tools hanging from the ceiling of the ladies toilets?? Always made me wince a bit…..
If you could dress anyone in Cats Brothers, who would it be?
Although it is great for PR and business to have someone famous or with huge social media presence wear your clothing it doesn't give me anything like the same satisfaction and warm glow as when they are bought, worn and appreciated by friends and acquaintances in the industry, from buyers to other designers, artists and creatives who are fierce, bold and confident people with a sense of humour – I don't think you can wear Cats Brothers if you take yourself too seriously!
I am very proud of the fact that my close friends want to wear my clothing.
What's Cats Brothers guilty pleasure?
My habitual response to this is that we don't feel guilty about pleasure!!!
Any exciting plans on the horizon?
YES! I am currently working on a couple of really fun collaborations – one with an illustrator/artist and another with an Italian yarn mill – but that's all I can say for now.
Who taught you to knit?
That would be my great grandmother, or AKA my super-nana. She was a wonderfully patient and no-nonsense lady from Orkney – she would've had to be to teach me knitting!